Téma:
12: Művészet, kultúra és helyi történelem
Opciók:
Vegyes korcsoportú tábor
Munka típusok:
Fesztivál / Kulturális Örökség / Kézi
Az elérhető helyek száma:
0
Utolsó frissítés szerinti szabad helyek
2019 Feb 03
Nemzetközi önkéntesek korhatára
18 - 99
Helyi jelentkezők korhatára
16 - 99
Extra költségek, melyeket a tábor helyszínén kell fizetni:
120.00 Australian Dollar
Gyermekbarát tábor
Yes (Minimum kor: 0)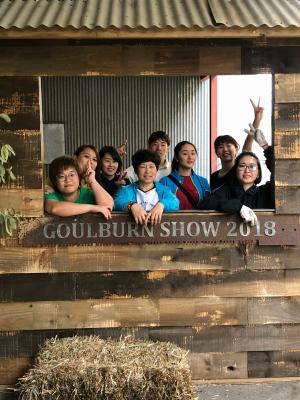 Leírás: Goulburn Agricultural, Pastoral and Horticultural Society began in 1880. They hold the Goulburn Show each year, showcasing the very best of industry, produce and agricultural pursuits in the region. Goulburn Show is one of the largest community events in the region. www.goulburnshow.com.au/
Munka típusa For the volunteers it will be fun and rewarding to work with local community minded people. The Show will take place on 2nd and 3rd March. You will work behind the scene helping to put the Goulburn Show together, setting up for the show and packing away afterwards. The work will be approximately 6-7 hrs a day with tasks as required, mostly physical with some moderate lifting. During the show, you will help for a few hours to run an information stall about international volunteering. Your ideas welcome for this.
Szállás: The team will live together in a small building at the showground. IVP will supply mattresses and extra blankets. Please bring your own sleeping bag. You can make a pillow by wrapping some clothes inside a shirt or towel. There will be a roster for cooking and cleaning. The town centre is a 20 minute walk away and there you can find supermarket, post office, cinema, swimming pool.
Közlekedési csomópont a közelben: Goulburn is a small regional city 200 km (120 miles) south-west of Sydney, Australia. With a population of 24,000, Goulburn is one of the largest cities in the region and a rural hub for surrounding agriculture. Goulburn lays claim to be Australia's first inland city to be settled. The area we now know as Goulburn Mulwaree was originally a very important meeting place for various Aboriginal clan groups – including Wiradjuri, Gundungarra, Tarlo, Lachlan, Wollondilly and Mulwaree.
Megjegyzések: What to bring: Wide brimmed sun hat, closed work shoes, work gloves. It is likely to be very hot but a cold snap would not be unusual. So bring clothes for all climates, including possible rain.
Szervezet Leírása International Volunteers for Peace (IVP) is the Australian branch for Service Civil International (SCI), one of the world's largest Global Volunteering Networks with Branches in 44 countries and 106 Partners and Contacts in Africa, Asia, Europe and the Americas. More than 5000 volunteers participate in hundreds of volunteer projects each year. IVP involved Projects are initiated and organised by community groups, and are designed to be of tangible benefit to the local community. They enhance local initiatives and do not replace paid labour. Our projects historically have been described as 'work camps'. Using this model, we bring together people of diverse race, ideology, nationality and age who live together while working on a community project. We offer short-term, and medium to long-term projects.