Megalithic Village Camp I
Ez a projekt része a SCI Észak-Dél szolidaritás programjának. Kizárólag 21 évet betöltött önkéntesek vehetnek részt, akiknek van korábbi tapasztalata és részt vesznek a küldő szervezet által tartott felkészítésen. További részletekért fordulj az Útilapuhoz.

Camp code:
ID-PKB 13.1903
Munka típusok:
Gyerekekkel való foglalkozás / Renoválás
Utolsó frissítés szerinti szabad helyek
2018 Nov 01
Nemzetközi önkéntesek korhatára
18 - 99
Helyi jelentkezők korhatára
16 - 99
Extra költségek, melyeket a tábor helyszínén kell fizetni:
220.00 Euro
Az extra részvételi díj célja:
It will cover foods, accommodation, and local transport for project, IIWC T-shirt, certificate of participation, management fee and material for the camps.
Motivációs levél:
Ennek a tábornak a szervezői egy külön motivációs levelet kérnek tőled, melyben részletezned kell, miért pont ezt a tábort választottad.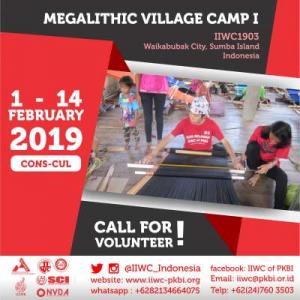 Leírás: A Megalithic Village Heritage Project is located in Prai Ijing Village of Sumba Island. Prai Ijing Village is a traditional village, where you can find traditional houses. In this village, we can find the uniqueness of the house with the structure of the building. The village has many stories and tradition that the local people still apply it However, the village needs more to set up the infrastructure and the community needs to manage their village to be clean as well. Also, since many visitors are foreigner, the local could not explain the beauty of their culture in English.
Munka típusa Set up the infrastructure of the village, Waving and making handicraft with local mothers, village maping, helping the local feeding their animals, and also visiting the local school nearby the village.
Szállás: The volunteers will stay in a traditional house together with local people with a shared toilet and bathroom. The location is Prai Ijing Village, West Sumba Regency.
Szervezet Leírása IIWC (Indonesian International Work Camp) is one of PKBI (Eng: Indonesia Planned Parenthood Association) program who deal with IVS movement since 1999.