Ez a projekt része a SCI Észak-Dél szolidaritás programjának. Kizárólag 21 évet betöltött önkéntesek vehetnek részt, akiknek van korábbi tapasztalata és részt vesznek a küldő szervezet által tartott felkészítésen. További részletekért fordulj az Útilapuhoz.

Camp code:
ID-PKB 12.1904
Téma:
12: Művészet, kultúra és helyi történelem
Munka típusok:
Művészet / Kulturális Örökség
Utolsó frissítés szerinti szabad helyek
2018 Nov 02
Nemzetközi önkéntesek korhatára
18 - 99
Helyi jelentkezők korhatára
16 - 99
Extra költségek, melyeket a tábor helyszínén kell fizetni:
180.00 Euro
Az extra részvételi díj célja:
The cost will cover the accomodation, Food, Material of the project, IIWC-Tshirt and Certificate of participation.
Gyermekbarát tábor
Yes (Minimum kor: 0)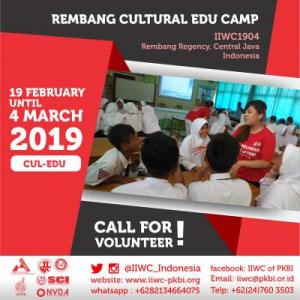 Leírás: The activities that will be carried out are learning about culture and providing education for young people to participate in preserving culture in Rembang. This program was implemented to introduce the culture carried out during Kartini's struggle. Kartini was one of the female heroes during the Dutch colonial era in Indonesia. She managed to create education for women in her time, because at that time a woman was not allowed to continue her education if she was 12 years old. Since that age, Kartini was married by his parents. Equipped with embroidery, batik, and sewing equipment. She started her determination to open an education school for women.
Munka típusa The main activities in Semarang Street Children Camp will deal with manual activities of teaching and playing with children such as making handicraft, necklace, or small something easy to get and possibly arts or music as well as collaborating with local people like sharing the culture. As a part of this project, school visit and university visit, we will visit some schools/university to campaign the street children project and cultural exchange. These activities really need strong motivation and physic. The detailed activities are broken down into the tentative schedule which will be sent together with welcoming email from the work camp leaders directly.
Szállás: The volunteers will stay in IIWC Volunteer house at Rembang Regency with shared toilet and bathroom, sleeping bag and mattress needed, self cooking.
Nyelv: English
Közlekedési csomópont a közelben: Rembang Regency, Central Java Indonesia.
Szervezet Leírása IIWC (Indonesian International Work Camp) is one of PKBI (Eng: Indonesia Planned Parenthood Association) program who deal with IVS movement since 1999.