Ez a projekt része a SCI Észak-Dél szolidaritás programjának. Kizárólag 21 évet betöltött önkéntesek vehetnek részt, akiknek van korábbi tapasztalata és részt vesznek a küldő szervezet által tartott felkészítésen. További részletekért fordulj az Útilapuhoz.

Camp code:
ID-PKB 12.1908
Téma:
12: Művészet, kultúra és helyi történelem
Munka típusok:
Kulturális Örökség
Utolsó frissítés szerinti szabad helyek
2018 Nov 02
Extra költségek:
180.00 Euro
Purpose of extra costs:
The cost will cover the accomodation, Food, Material of the project, IIWC-Tshirt and Certificate of participation.
Motivation letter:
This camp requires an additional motivation letter to explain in more detail why you would like to attend.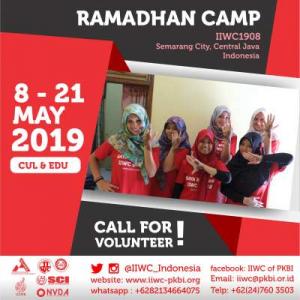 Leírás: Ramadhan Camp – Ramadhan is a part of moslem life in Indonesia, it is such a special month for moslem around the world and so is for Indonesian moslem. Ramadhan Camp will emphasize an introduction of Muslim culture in Indonesia especially about
Munka típusa Teach the orphans about cleanliness and create fun atmosphere for them while they are practicing to fasting. Volunteer will do some daily activity with local community such as cooking, cleaning, and learning how local community doing their worship during Ramadan.
Szállás: Fatimatuzzahro orphanage room with shared toilet and bathroom, sleeping bag and mattress needed, and self-cooking.
Nyelv: English
Közlekedési csomópont a közelben: Fatimatuzzahro orphanage which located in Semarang city Central Java Indonesia.
Szervezet Leírása IIWC (Indonesian International Work Camp) is one of PKBI (Eng: Indonesia Planned Parenthood Association) program who deal with IVS movement since 1999.