Maintenance of the ecological park and debate around ecology in the daily life
Ez a projekt része a SCI Észak-Dél szolidaritás programjának. Kizárólag 21 évet betöltött önkéntesek vehetnek részt, akiknek van korábbi tapasztalata és részt vesznek a küldő szervezet által tartott felkészítésen. További részletekért fordulj az Útilapuhoz.

Téma:
11: Klíma és fenntartható élet
Munka típusok:
Építés / Környezet / Renoválás
Az elérhető helyek száma:
6
Utolsó frissítés szerinti szabad helyek
2018 Dec 19
Nemzetközi önkéntesek korhatára
20 - 99
Helyi jelentkezők korhatára
20 - 99
Extra költségek, melyeket a tábor helyszínén kell fizetni:
80.00 Euro
Az extra részvételi díj célja:
Those cost will cover food, transport and accommodation for the duration of the project.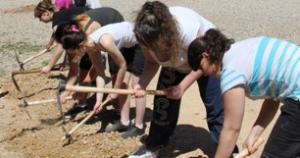 Leírás: The EVO association (Espace Volontaire Oujda) was founded in 2003 in Oujda (Morocco). It is an association of young civil from Oujda, committed to volunteering. This team has a lot of experience in social work, especially with international workcamp. It composed with different managers from social centers, neighborhood organization team, local and international partners. It aims to create an atmosphere of solidarity and volunteering, also to preserve environment and heritage. Its most important mission is to make young people aware of their rights and duties. EVO is an organization with values like respect, solidarity, responsibility and sharing.
Munka típusa The work will be both manual and bio-gardening. It will initially be the repair of degraded wooden material. The volunteers will also work to maintain the green spaces of the ecological park. The volunteers will have the opportunity to visit the town of Oujda and the surroundings. Their will be lots of local volunteers to show them around.
Képzés: Establishment of activities and debates on ecology on two afternoons. These debates will be set up to discuss the ecological issue in everyday life with visitors to the park, the speakers, the staff of the center and the volunteers. The park has an area of 25 hectares and an impact of approximately 120 kilometers. This ecological park is considered a unique ecological masterpiece in Morocco. The park was started in 2015 and finished in 2016. This involves the implementation of a site maintenance and renovation of structures.
Szállás: In shared dormitory in the social center. 3 rooms with 3 or 4 beds each. Please bring your sheets and towels, but also working clothes, warm clothes, good shoes, a hat and gloves. Please be aware that the food will mainly be NOT vegetarian.
Nyelv: The local volunteers will mainly speak french or arabe, but english is also ok.
Közlekedési csomópont a közelben: Oujda, Morocco