Camp code:
JP-NIC 10.1902263
Téma:
10: Környezetvédelem
Utolsó frissítés szerinti szabad helyek
2019 Jan 30
Nemzetközi önkéntesek korhatára
18 - 99
Helyi jelentkezők korhatára
16 - 99
Extra költségek, melyeket a tábor helyszínén kell fizetni:
0.00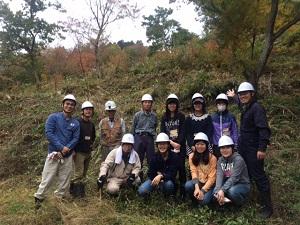 Leírás: This project has been organized together with Iwaki no Mori ni Shitashimukai(IMS) since 2016 (First time!) . IMS start on October 3, 2001 at Mt. Yunodake in Iwaki city. IMS is a NPO running maintain forest and organize activities in forest (kids camp etc.) around there. They aim to revive satoyama by citizen hands and people enjoy satoyama safely and freely. IMS think it is necessary to know the forest and the soil which are the source of life to understand the essence of the environmental problem. To that end, at first, we touch the nature and know a wonder to have of nature and know the structure of nature and various things. Because we notice it to work that nature has are important. IMS want to spread it to all citizen and involve them.
Munka típusa 1. Maintain abandoned chestnut forest.
Maintain footpath we call Yunodake nature walking course. IMS organizes the nature tour and nature there.
Képzés: Volunteers will get knowledge of nature, revive from huge earthquake.
Szállás: Yunodake-sanso (it means Yunodake mountain cottage). Shared room (male and female are separated). Cooked as a group by turns. All basic facilities are provided.
Nyelv: English (Japanese is also welcomed!)
Elvárások: Interest to protect nature and to exchange with people.
Közlekedési csomópont a közelben: It is located Iwaki city (south part and near shore) in Fukushima pre.. Iwaki-city is most huge land and highest population number in Fukushima.
Megjegyzések: Other activities: Communicating with member of IMS and local university students.