Rome International Soup Festival
Téma:
11: Klíma és fenntartható élet
Munka típusok:
Fesztivál / Kézi / Szociális
Az elérhető helyek száma:
1
Utolsó frissítés szerinti szabad helyek
2019 Már 25
Nemzetközi önkéntesek korhatára
16 - 99
Helyi jelentkezők korhatára
16 - 99
Extra költségek, melyeket a tábor helyszínén kell fizetni:
0.00
Motivációs levél:
Ennek a tábornak a szervezői egy külön motivációs levelet kérnek tőled, melyben részletezned kell, miért pont ezt a tábort választottad.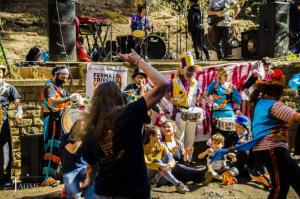 Leírás: "La Città dell'Utopia" (The City of Utopia) is a project of SCI Italy located in San Paolo district, Rome. The project is an experiment in creating active citizenship and local development. Different events, initiatives, workshops concerning the topics of interculturality, sustainable lifestyle and active citizenship take place here. The "Soup Phenomenon", occurred in Lille in 2001 and successfully spread all over Europe. For 11 years the International Soup Festival in Rome tries to create a joyful moment through a rich plate, popular and recognizable around the world. The Festival participants compete for the "Golden Ladle". This year the major topics of the Festival are: the climate change and the resistance against big infrastructural projects which destroy nature in Italy (TAV, TAP).
Munka típusa The activities that will be carried out during the camp will include the support of the space preparation and the thematic development of the festival.
Basic activities:
support of the construction of scenography
the preparation of the space
support of the promotion of the festival
re-arrangement of the place in the end of the festival
Képzés: The study part will be dedicated to the planning and promotion of communication strategies during the festival. It will be focused on the exchange of information and issues connected to climate change and forms of combate and resistance towards infrastructural projects which destroy nature in Italy (TAV, TAP...) to raise awareness among the local citizens.
Szállás: The volunteers will stay in the hostel of La Città dell'Utopia. There will be mixed rooms, for max 7 volunteers per room. There will be beds, bedsheets, pillows, blankets. No towels provided. The toilet and the showers are on the same floor and shared. Hot water will be provided with aware consume. There will be a kitchen available where the volunteers will eat all meals together in the hostel, sometimes with other people who attend La Città dell'Utopia for their activities.The volunteers will be responsible for the cooking and cleaning of the space and the materials they use for each meal.
Nyelv: Italian, Greek, Spanish, Catalan, French, Serbian and Bulgarian
Elvárások: Group working skills; Interest in organizing events; Manual and artistic skills.
Közlekedési csomópont a közelben: San Paolo district, city of Rome