Organic farming at Vanhamäki center for common good I
Téma:
11: Klíma és fenntartható élet
Munka típusok:
Mezőgazdaság / Építés / Kézi
Number of places still available:
2
Utolsó frissítés szerinti szabad helyek
2019 Máj 02
Gyermekbarát tábor
Yes (Minimum kor: 0)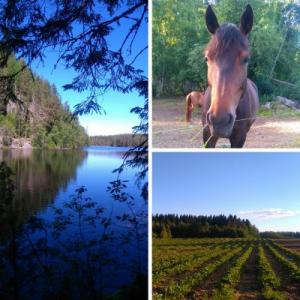 Leírás: Vanhamäki Foundation organizes camps and recreational days for different groups around the topics of horse riding, sports and organic farming. Vanhamäki has an organic farm and produces different kinds of canned goods, berry powders and green powders. There is also a forest activity park that is aimed for everyone. During its over 100-year history Vanhamäki Wellness center has operated as a center for poor and disabled people, hospital, home for elderly people and as a youth center. Throughout the years the aim has remained the same - operate as the center for wellness and common good.
Munka típusa The volunteers will participate in the work of the farm, and in developing its activities. They can, for example, build an element to the forest activity park, get acquainted with organic farming and product development, help with the horse stables or in the kitchen.
During their free time, the volunteers can go to the sauna, spend evenings by the fire, swim, do sports and go canoeing.
Képzés: Organic farming
Szállás: In shared rooms, with separate spaces for men and women. Beds and sheets are provided for the volunteers.
Nyelv: English
Közlekedési csomópont a közelben: Suonenjoki, Eastern Finland