Téma:
12: Művészet, kultúra és helyi történelem
Munka típusok:
Építés / Fogyatékosokkal való foglalkozás / Környezet / Kézi / Renoválás / Szociális
Utolsó frissítés szerinti szabad helyek
2019 Feb 20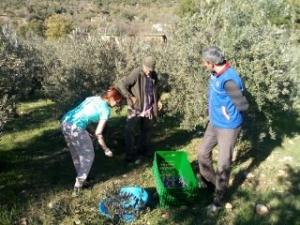 Leírás: Alternative Life Association (www.ayder.org.tr ) which aims and works for the social integration of people with disabilities built a multi purpose venue in 2014, in a village near by Kas i Antalya in the south-west of Turkey. In this venue people with disabilities who has been excluded from mainstream educational opportunities will have the chance to have education in various fields. Volunteers who are willing to work with and for disabled people are welcome. Please be aware that the center is open all year but disabled people will be there between 15 May i 30 October. Thus you should consider their absence if you are willing to come out of these dates and sometimes even within these days. When there is no disabled groups in the center wolunteers should agree to do other tasks mentioned below. Also you might be the only foreign volunteer during your period of stay. We can not guarantee a group of international volunteers all the time.
Munka típusa Although we do not request a nonstop working effort, volunteers are supposed to dedicate their time end energy when needed. Your help may be requested all day long, of course with breaks.You can help for the over all running of the site in different field works. Volunteers who can undertake more than just one task will be preferred. The work fields are as follows. 1) Kitchen : Food preperation, cooking, table setting, food serving, dish washing.2) Field: General cleaning of all units, fixing buildings, boats, bikes, instruments. Gardening in main facility and in eco farm. Animal care ( mainly horses), farming, harvesting, landscaping.3) Training as artist or assistant or just helper : Art workshops (painting, dance, rhythm, instrument, dj, drama, photography, sculpture, ceramic, hangicraft). Courses ( PC, foreign languages, personal development, sign language). Reading and library management. Outdoor and water sports. Boat skipping. Yoga and pilates.4) Organization : Entertainment and event organizations, indoor i outdoor games. Driving and transportation, trip guiding. Health care and first aid.5) Administration : Office works
Szállás: A: Although a guest house and dormitories are avaliable, volunteers might be asked to stay in tents when necessary. Disabled members of the arriving groups have the priority of using the dormitories. Sleeping bags, mats and tents will be supplied but those volunteers who prefer to bring their own ones are welcome. F: Breakfast, dinner and lunch will be prepared and served at the facility. Volunteers may be requested to help in turns for the kitchen works as preparing the food, cooking, setting up tables, washing the dishes, etc.
Nyelv: eng,tur
Elvárások: Camp language is English, basic Turkish would be an asset but not a must. Minimum stay 2 weeks, Maximum stay 8 weeks.
Közlekedési csomópont a közelben: Kas is one of the most popular coasts in southern Turkey and the facility is 11 km away from the Kas town Center. Please be aware that the facility is a bit isolated and there is no night life. You might be the only foreign volunteer especially out of the summer period. Work camp site is safe and secure. R: Minimum age is 20. Minimum stay is 15 days, max.is 3 months. A detailed motivation letter should be sent with the application form. Volunteers who can take responsibilities of more than 1 task will be preferred.