Sketch it! Peace activism via Art (Berlin)
Kezdő dátum:
2019 Szep 01
Téma:
6: Nemi egyenlőség és szexualitás
Munka típusok:
Béke / Szociális / Tanulás, beszélgetés, kutatás
Az elérhető helyek száma:
1
Utolsó frissítés szerinti szabad helyek
2019 Aug 12
Nemzetközi önkéntesek korhatára
18 - 99
Helyi jelentkezők korhatára
16 - 99
Extra költségek, melyeket a tábor helyszínén kell fizetni:
0.00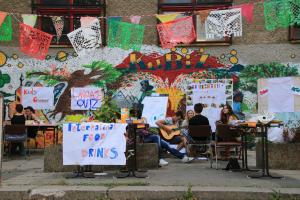 Leírás: In cooperation with the collective "Neograd", an international group of peace activists and artists, the participants receive the opportunity to get to know peace-activism better and to integrate the gained skills into their own activism. The participants will receive creative tools which can help to broaden possibilities of expression. With this qualification, the volunteers can develop new approaches for their social-engagement in their direct environment.
Munka típusa The participants will work on a project. It may be a single work or a group work with thematic reference. At the end you will present the results at the "Berlin-Gathering 2019".
Képzés: Reflective tours through Berlin; visits of similar projects and organisations; visiting galleries and art-museums; further workshops and seminars on these topics:
Leadership free communities and environments.
Peace-activism and how to become a part of a global movement.
A "climate of change".
Methods of art education in peace activism.
Szállás: The participants will sleep on the houseboat "Horst-Günther" by Lisa e.V. in small cabins; you will cook for yourself in the kitchen of the accommodation.
Elvárások: Interest in creative work; the will to integrate artistic processes into political education; motivation to conduct their own projects within encounter- and peace work.
Szervezet Leírása This workcamp is organized by the German branch of Service Civil International (SCI). SCI Germany was founded in 1946 and is approved as a non-profit organisation. We are one of the oldest peace and volunteer organisations. SCI Germany aims to promote peace, non-violence, international solidarity, social justice, sustainable development and cross-cultural exchange through international voluntary work. We cooperate with a network of branches and partners in more than 90 countries. Every year, SCI Germany organizes about 50 international workcamps in Germany.