Live Consciously Association – Hope for new chances
Téma:
5: Szegénység és hátrányos helyzet
Munka típusok:
Gyerekekkel való foglalkozás / Kézi / Szociális
Az elérhető helyek száma:
0
Utolsó frissítés szerinti szabad helyek
2019 Jún 01
Nemzetközi önkéntesek korhatára
18 - 99
Helyi jelentkezők korhatára
16 - 99
Beszélt nyelv:
Angol, Magyar
Motivációs levél:
Ennek a tábornak a szervezői egy külön motivációs levelet kérnek tőled, melyben részletezned kell, miért pont ezt a tábort választottad.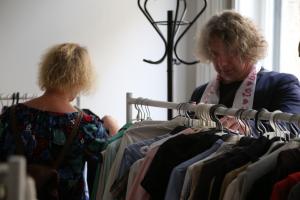 Leírás: The aim of the Élj tudatosan Egyesület (Live Consciously Association) is to provide effective help to young people and their families in a successful social integration after leaving the state care or still living in disadvantaged conditions. The majority of the supported families are strongly connected to Tiszadob where the parents grew up in the Child Protection Centre. The association supports these families with helping them in schooling, with participating in children's camp and with donations. The association operates a mentor system which helps the families to find job or a suitable home. The association has a donation shop in Kecskemét and Tiszadob which are also a workplace for the parents from the supported families.
Munka típusa Physical work and organising a sport day for the local families. The primarily task of the volunteers is located in Kecskemét in the donation shop. The volunteers will help around the shop; they will help in organising, selecting, cleaning and packing the stock (clothes, shoes, accessories, household machines, toys etc.) of the donation shop. As the other part of the work, volunteers will plan and carry out the program of a Family Sport day in Tiszadob with the local organisers together. The Sport day is going to be organised for the local families and young children with the aim to get in touch with the families in need, creating a platform to meet the opportunities provided by the association. The volunteers will also have program together with the supported families.
Képzés: There will be plenty of opportunities to learn about youth and social work with disadvantaged children and the child care system in Hungary. The campleaders will share knowledge on short, medium and long term voluntary opportunities, in and outside of Europe. And of course, volunteers will be learning about other cultures, each other and themselves in funny and unexpected ways. Daily trips on free days to interesting spots outside of Kecskemét and Tiszadob will be organised.
Szállás: Accommodation will be in a horse farmstead in a big house with separated rooms, shower, kitchen and toilet near to Kecskemét. Beds are provided, sleepingbags are not necessary. The accommodation in Tiszadob or in Tokaj is also provided in a house, the exact location depends on the programme. Food is included for the duration of the workcamp. Lunch will be prepared by the project partner but help is always warmly welcome during the preparation. Volunteers will need to prepare their own breakfast and dinner (and to wash up after meals), but ingredients will be provided by the project partner.
Nyelv: English
Elvárások: We recommend our camp to proactive, brave, cheerful and hard-working people. It is important that the volunteers should be flexible, open-minded, motivated and creative who can respect others and are willing to cooperate with each other and the community.
Közlekedési csomópont a közelben: The donation shop means an income to maintain the projects in the mentor system running by the association. The purpose of the camp is to establish a donation shop network in the east part of the country which can support and maintain the work of the association and help to the families. This year's camp will be the first camp organised by SCI Hungary, but the organisation has a long relationship with the Child Protection Centre. The camp will be organised in Kecskemét and Tiszadob.
Megjegyzések: Volunteers will help in the demonstration of the importance of the physical work and to show how can different cultures can live and work together. The volunteers are asked to prepare a presentation about their home country, their culture, national cuisine, games or dance for the international evenings. It would be great if you could bring recipes with you so during these 2 weeks we could taste several national meals. Apart from this there will be cultural evenings when the volunteers will present their countries/costums/dishes to the youngsters, when volunteers can prepare their national food, and introduce their country and culture. If you play on any musical instrument, please, take it with you if it's possible!
Szervezet Leírása Útilapu Hálózat is the Hungarian branch of Service Civil International (SCI), a volunteer organisation dedicated to promoting a culture of peace by organising international voluntary projects. Partner organizations of SCI are present in over 50 European, Asian, North-American and African countries. Útilapu was established by a group of enthusiastic youngsters in 1993 who had participated in SCI camps before. Our vision is a world of peace; social justice and sustainable development, where all people live together with mutual respect and without recourse to any form of violence to solve conflict. Our primary activity is organising summer voluntary camps in Hungary and sending Hungarian volunteers abroad. The participants of our workcamps come from all over the world and work together on a common project. In our workcamps, we put much emphasis on responding to local needs and making sure that our volunteers see the importance of their work. During the joint work and free time, volunteers discover each other's traditions, way of living, problems and ideas, form long-lasting friendships. Living and working together with people of different backgrounds help volunteers to break down barriers and prejudices. However, Útilapu is active throughout the whole year. We organize workshops, cultural events, meetings and we offer a broad list of training courses and seminars accessible for all. Every voluntary project, meeting, exchange or training course has to be in line with the values of volunteering, non-violence, Human Rights, solidarity, respect for the environment, inclusion, empowerment and cooperation.