A tábor időpontja még nem végleges, kérünk, kicsit később jelentkezz.

Ország:
Russian Federation
Téma:
7: Gyerekek és fiatalok
Munka típusok:
Tanítás / Gyerekekkel való foglalkozás
Utolsó frissítés szerinti szabad helyek
2020 Jan 14
Nemzetközi önkéntesek korhatára
18 - 99
Helyi jelentkezők korhatára
18 - 99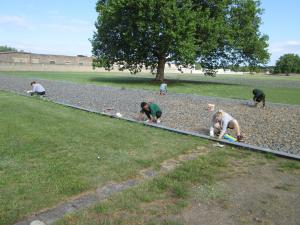 Leírás: Our partner – NGO "Opora" is an institution which works with children of challenging social background who was left without parental care or lives in an orphanage. They organize summer tent camps for children where they have an opportunity to try different workshops such as rope course, boating school, international instructors, obstacles path, School of challenges and Discovery, orienteering, geocaching courses. Objectives: - preservation and strengthening of health of children, promotion of various sports, broaden their horizons and culture, organization of leisure;
Creation of conditions for successful socialization of orphans through training and joint activities with the active participation of the international group of volunteers.
Munka típusa Conducting workshops, interactive presentations about the culture of their country, international evenings. During the camp, a volunteer will lead/organize:
Workshops on transfer their own experience (tourism, sports, environmental protection or any other related topic);
One interactive presentation about the culture of their country, which will be held by volunteer 4 times for four small groups at different time during the camp;
One international evening dedicated to the country where volunteer come from. Experience in the areas of protection of the environment, tourism and sport is welcome. It is necessary to contact the Camp leader for the content of workshops on tourism and environmental protection.
Képzés: Volunteers will get the opportunity to get to know the unique Mariin culture as the camp is taking place in the Mari Republic.
Szállás: volunteers will be living in tents, the food will be provided. Sleeping bags are needed.
Nyelv: English
Elvárások: The volunteers are expected to have some experience of working with kids and organizing activities, intercultural experience is very welcome. Motivation letter is required. Certificate of no criminal record is required.
Közlekedési csomópont a közelben: the camp is located in the forest, the nearest cities are Yoshkar-Ola and Cheboksary. The meeting point is Yoshkar-Ola where the volunteers will be met by Russian volunteers and move to the camp site together.
Szervezet Leírása "Sodrujestvo" is an organization for volunteers which was founded in 2003. The organization is located in Cheboksary, the capital of the Republic of Chuvashia and in Kazan, the capital of the Republic of Tatarstan in Russia. Chuvashia and Tatarstan are the small local ethnicities in the Volga region 600 km to the east from Moscow. Cheboksary is a provincial city, and although Chuvashia has a long and rich history, not so many foreigners come here. That's why there are not a lot of possibilities for youngsters to meet other cultures and have international friends. Sodrujestvo is trying to fill this gap. Every year volunteers from all over the world regardless of gender, culture, nationality or religion are invited to participate in the organized projects. What does Sodrujestvo? We make short and long-term cultural and social projects for the local community, for example: intercultural summer camps for kids in Chuvashia a weekly intercultural communication club in the local orphanages a weekly intercultural communication clubs for secondary school kids ecological projects in the Volga region Sodrujestvo is also a hosting organization for long term foreign volunteers The philosophy of Sodrujestvo Our projects are very practical, based on the philosophy of 'Deeds, not Words'. This way we try to make small but useful changes in our local community. The main goal of all our projects is that every participant can get new specific knowledge about some actual topics and improve skills which are important in life. We don't preach but try to break down prejudices and stereotypes by living and working together with people of different backgrounds. This way, the participants can experience a world of respect and understanding, in which conflicts are solved without violence. We promote volunteering, positive attitude and optimism. Our special attention goes also to environmental respect, which is a critical problem in the Volga region.