Koh Sukorn (Rice harvesting and activities with kids)
Ez a projekt része a SCI Észak-Dél szolidaritás programjának. Kizárólag 21 évet betöltött önkéntesek vehetnek részt, akiknek van korábbi tapasztalata és részt vesznek a küldő szervezet által tartott felkészítésen. További részletekért fordulj az Útilapuhoz.

Munka típusok:
Mezőgazdaság / Tanítás / Kézi
Nemzetközi önkéntesek korhatára
18 - 99
Helyi jelentkezők korhatára
18 - 99
Extra költségek, melyeket a tábor helyszínén kell fizetni:
8500.00 Thai Baht [84294 Hungarian Forint]
Breakdown:
Accommodation and food: 0.00 Thai Baht
Transportation: 0.00 Thai Baht
Activities: 0.00 Thai Baht
Hosting organisation support: 8500 Thai Baht
Az extra részvételi díj célja:
The participation fee is requested to pay to Dalaa for food, accommodation, and other project related expenses. Therefore, the fees are for the preparation of workcamps.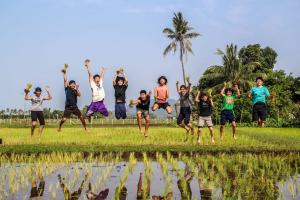 Leírás: Koh Sukorn is a preserved island of Andaman sea in South Thailand. During this work camp, we will have a chance to join hands with the community members to preserve the local agriculture while we can learn about their way of living. Moreover, we will be creating activities and games with children and young people to open their views and let them learn about international culture together with the volunteers
AIMS of the PROJECT
• To support the initiatives of local agricultural activities • To fully and wisely utilize local resources • To be part of the communities • To let children be familiar with volunteers and learn in international/multi-cultural atmosphere
Munka típusa - Working in the rice fields.
Growing edible vegetables in the local host's planting area.
Making compost, taking care of the paddy field or making bio-fertilizer.
Creating games and activities for kids. There will be around 20-30 of kindergarten's age and primary's Learning and integrating into the fisherman's lifestyle.
Szállás: - Volunteers will stay at the local people's house. You will need to bring a sleeping bag, a small mattress, and a mosquito net for yourself.
There are basic toilets and showers and a kitchen where volunteers will cook by themselves.
Nyelv: English
Elvárások: - The volunteers should be ready to stay in a remote area, to adapt to the local conditions with only basic facilities. Not many local people are able to speak English.
Volunteers should be able to handle a spontaneous working environment and constant changes in the plans.
Közlekedési csomópont a közelben: 95 m.2 T. Kohsukorn A.Palian J.Trang 92120, Thailand.
Megjegyzések: *The villagers are Muslim so there must be no pork nor alcohol products.