Let's rebuild the old "Fort de Jouy"
Topic:
12: Art, culture and local history
Work Types:
Cultural heritage / Manual / Restoration, renovation
Number of places still available:
0
Free places last update:
27 Jun 2019
International age:
18 - 30
Required Language:
English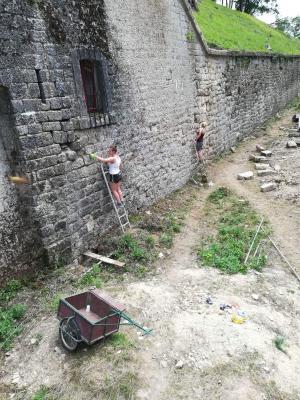 Description: The "Fort de Jouy sous les Côtes" is a former military castle built in 1885 in Géville, a village located in Lorraine. The association, "Friends of the Fort de Jouy" have dedicated many years to perserving and restoring this historic monument.
Type of Work: The volunteers will work to restore this castle with local French volunteers by conducting various tasks such as masonry, painting, and maintenance work. The tasks can be hard and physical at times so volunteers should be prepared to work!
Study Theme: Restoring and preserving a national monument to provide the local population with access to their heritage and history.
You can find last year photos here: https://www.flickr.com/photos/154450404@N06/albums/72157699073455742
Accommodation: Volunteers will stay inside the site's fort on beds and mattresses, please, however, bring a WARM sleeping bad as it can get very cold at night even in July! The accommodation is very basic with mainly Squat toilet!
Language: English will be the camp language but local volunteers might speak mainly french
Requirements: Be prepared for minimalistic living conditions, hard work, amazing food, incredible landscapes, and a superb experience :)
Approximate Location: Located near the town of Géville in Lorraine, north-eastern France.
Organization Description: La branche française du mouvement, créée en 1936 et actuellement à Lille.