Fresh Water / Welfare Community Project
This project is part of the SCI North South Programmes. Volunteers should be 20 years old, have previous volunteering experience and take part in the Preparation Workshops organised by their sending branch. More details from your sending branch.

Topic:
5: Poverty and social injustice
Work Types:
Art / Environment / Restoration, renovation
Free places for Females:
8
Free places last update:
05 Feb 2019
International age:
18 - 99
Extra fee to be paid in the hosting country:
250.00 Euro
Breakdown:
Accommodation and food: 0.00 Euro
Transportation: 0.00 Euro
Activities: 0.00 Euro
Hosting organisation support: 250 Euro
Purpose of extra costs:
Preparations, Feeding, Accommodation, On-arrival orientation, Evaluations, Mobility to the Camp site and maintenance of volunteers in the project
Required Language:
English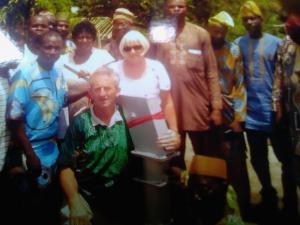 Description: The community is in a remote part of the countryside and has been endemic with water disease and shortage of pipe borne water. The 2 villages are located in the hill-country side of Ogun State where rocks and stoned exists to prevent good water system. The community were assisted with bore-hole through an Irish group. Need to follow-up the projects and identify further areas of needs.
Type of Work: Visit to the 2 recently built water projects at Kajola and Oniyanrin Village, Cleaning the water channels and erecting new water tanks chamber, Mingle with community for inter-cultural learning. Carry out campaigns and awareness of how to maintain a healthy living and avoid water disease.
Study Theme: Fresh Water / Welfare Project
Accommodation: Volunteers will stay together in Accommodation provided in within the project community. Cooking will be done by roster of kitchen crew. The village commuinty will offer appartment for volunteers throughout the period.
Language: Fair knowledge of English
Approximate Location: At Oniyanrin and Kajola Village, Near Opeji LCDA in the Odeda Local Government Area of Ogun State.
Notes: Volunteers should be open to new cultures, enthusiastic to exchange/learn about environmental issues. Please come working gloves, water proof clothes and booths.