Agroecology and environmental education in the Valley of the river Cérvol
Country:
Spain - Catalunya
Topic:
11: Climate and sustainable lifestyle
Special Topics:
Climate for Peace Programme:
Work Types:
Agriculture / Environment / Manual
Number of places still available:
1
Free places last update:
18 Dec 2019
International age:
16 - 99
Required Language:
English
Motivation letter:
This camp requires an additional motivation letter to explain in more detail why you would like to attend.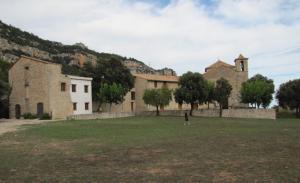 Description: La Pastora is a cooperative work project that focuses its activity on environmental education, ecotourism and rural development.
Type of Work: 1. Agroecology tasks
Preparation of unused benches for fall crops
Maximize the fertility of the soil using compost
Prepare high terraces or ponies, facilitating the correct development of the roots and avoiding water accumulation
Install a drip irrigation system
Maintenance of summer crops

Guard crops such as tomatoes
Use homemade pests
Sow and plant

Maintenance of dry stone structures

Rehabilitation of the old farmhouse
Three professionals will come: one to present the basic techniques of dry stone and another two to present the basic techniques of bioconstruction.
Study Theme: Topics we would like to address:
The abandonment of the rural and natural environment.
The model of agro-ecological production against the conventional production model.
Education as a tool for social transformation.
Consumption as a tool for social transformation.
Accommodation: The participants will be hosted in the Albergue La Pastora. There are two dormitories of 8 beds (4 bunk beds) and each room has its own bathroom.
Approximate Location: Vallibona, Castelló
Organization Description: SCI Catalunya is the Catalan branch of SCI, one of the 2 SCI branches in Spain. We are based in Barcelona and our working area covers the Catalan countries (including Catalonia, Valencia, the Balearic Islands and Andorra). The other provinces of Spain are covered by SCI Madrid. SCI was founded in 1982 and he organization works on both a global and local level. On the global level, we organize international workcamps in the above mentioned territory Long Term Voluntary Projects (including EVS), trainings and seminars. . On the local level, we work to promote peaceful social transformation of society in order to encourage sustainable human development and a culture of peace, through volunteer groups, involving our community and local networks.