September in Glebe House cross-community organisation
Camp code:
UK-IE-VSI 10.1
Country:
Northern Ireland
Topic:
10: Environment protection
Work Types:
Environment / Manual
Number of places still available:
0
Free places last update:
16 Jul 2019
International age:
18 - 99
Extra fee to be paid in the hosting country:
0.00
Required Language:
English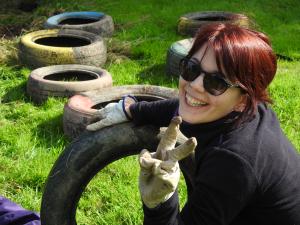 Description: Did you know that Glebe House project gathers SCI volunteers every year since 1975? This cross-community residential and day activity centre, owned by Harmony Community Trust, near to Strangford in Northern Ireland was partly set up in 1975 by Irish and British members of Service Civil International. Ever since, Harmony Community Trust has been practically and tenaciously working for a fair, inclusive society that respects and cherishes each person's humanity, dignity, aspirations, ideas and needs. One where each person can determine and re-create their own identity, rather than conform to sectarian, national, ethnic or social stereotypes, myths or stigmas. Glebe House website www.glebehouseni.com
Type of Work: Each year in September Glebe House holds an SCI International Voluntary Project, to help carry out a major tidy and clean up after our very busy summer residential programme with children. The work for the project will involve general cleaning and maintenance around the Glebe House centre, including working on the gardens, working on the wildlife play areas, general cleaning and reorganising, fruit harvesting and general repairs. Volunteers should bring work clothes work shoes and gloves. No children will be present during the project.
Study Theme: It is planed to have some discussion sessions during the project on the following topics: "The History and aims of Harmony Community Trust and Glebe House", "A potted history of Ireland", "The Northern Ireland peace process". There will be visits to a few local historical areas. There will also be opportunities for volunteers to discuss other issues of relevance to themselves.
Accommodation: Full board accommodation and all food will be provided, volunteers do not need sleeping bags. There is Wi-Fi access at the centre. Volunteers will have access to washing machines. Volunteers will have the chance to help with cooking some meals.
Language: English
Requirements: Only open to volunteers who do not require a visa for Northern Ireland.
Volunteers should bring work clothes, work shoes and gloves.
Approximate Location: Glebe House is in a beautiful and isolated area near Strangford Lough.