Camas outdoor activity centre work week - Isle of Mull, Scotland
Topic:
13: Community life
Work Types:
Construction / Environment / Restoration, renovation
Free places for Males:
11
Free places for Females:
12
Free places last update:
22 May 2019
International age:
18 - 99
Extra fee to be paid in the hosting country:
125.00 UK Pound Sterling
Purpose of extra costs:
To cover costs of food and accommodation
Required Language:
English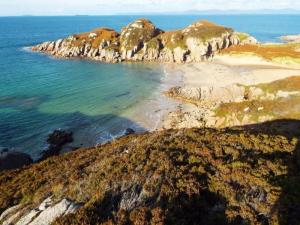 Description: Camas is the Iona Community's outdoor activity centre on the Isle of Mull, Scotland. It welcomes groups and individuals to its pink granite cottages nestled in an isolated bay on the Ross of Mull, a mile and half away from the road. The aim of the centre is to provide a safe haven for individuals to enjoy the company of their group, the wonder of Scotland's west coast environment and to offer each person opportunities for personal and spiritual development. Camas has a simple daily life. Electricity is generated solely from our wind turbine and solar panels heat water. Food is vegetarian and where possible gathered from the organic garden. Building a community based on nurturing confidence and acceptance is all important.
Type of Work: Come and help us get Camas tidied away for the winter season. With a variety of jobs from chopping wood, fixing the track and mending broken stuff, there will be a task to suit everyone. The week is mixed with plenty of free time to explore the local area and beautiful beaches. Every day will involve a work task in the morning followed by an activity/social time in the afternoon.
Accommodation: In bunk rooms, sleeping either 4 or 8 people. Sleeping bags are helpful but we do have some duvets.
Organization Description: "Small groups of people can make changes that very genuinely affect people's lives." Volunteering through IVS can impact on the lives of volunteers themselves and those they help and support. We are the British Branch of SCI with over 80 years' experience placing volunteers in the UK and internationally.