Migration, yoga and meditation. A natural way of living in mutual understanding and peace
Topic:
11: Climate and sustainable lifestyle
Work Types:
Environment / Peace / Yoga
Number of places still available:
0
Free places last update:
28 May 2019
International age:
18 - 99
Required Language:
English
Motivation letter:
This camp requires an additional motivation letter to explain in more detail why you would like to attend.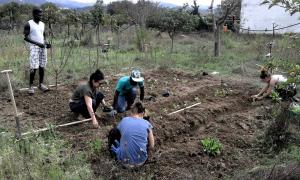 Description: The Association "Archbishop Ettore di Filippo" was founded by Father Francis Tiso in February 2017 in Cantalupo nel Sannio with the aim of promoting culture of acceptance and tolerance, peace, interreligious dialogue, solidarity, ecology and spirit of sharing and generosity. The purpose is to contribute to the improvement of the general conditions of social inclusion for vulnerable persons (such as migrants) by facilitating the communication and mutual understanding between asylum seekers and local communities in order to transform possible conflict dynamics and isolation. For that, the association carries out creative socio-educational activities and workshops, different initiatives on sustainable lifestyle and meditation, events on environmental issues and deep connection with nature.
Type of Work: The tasks to be performed during the workcamp will include practices of Yoga every morning (warming up exercises, asana, pranayama, self-massage, relaxation, mantras, meditation), farm work, gardening, collection of wild herbs. During the workcamp the volunteers will open an excursion path and decorate a fountain together with local community. Volunteers will live, study and work together with people who sought international protection.
Study Theme: The study part will focus on three macro-themes: interreligious dialogue, deep ecology and migrations. In particular, every afternoon an intense study session about interreligious dialogue will be conducted by Father Francis Tiso, PhD in Theology and History and worldwide famous tibetologist. Some useful insights for future individual and collective introspection will be provided.
Accommodation: The volunteers will be accommodated in three rooms, divided by gender and age if needed. Unlimited Wi-fi will be available in the whole building. Sheets and towels are provided. There are two shared bathrooms. The kitchen is located in the same building. The volunteers will be responsible for cleaning the private and common spaces in turns, and for helping out in the kitchen. Meals will be shared together with the coordinators and local collaborators.
Language: Italian, French, Spanish and Arabic are also spoken in the workcamp.
Requirements: It would be appreciated if the volunteers have interest and/or have practical and theoretical experience related to Yoga and other spiritual, meditative and contemplative sciences as well as on interfaith dialogue, non-violence, migrations, interculture, deep ecology, natural nutrition. Skills related to arts, crafts, permaculture and natural medicine will be particularly appreciated.
Approximate Location: The workcamp will take place in Cantalupo nel Sannio, Isernia province, at the headquarters of the association, as well as B&B and House of Herbs.The village is located on the slopes of the astonishing mountain Matese and close to the Pescasseroli-Candela cattle track, an ancient transhumance route along the Italian peninsula. The surrounding territory, inhabited by Samnite populations, is dotted with archaeological sites, places of worship and pilgrimage, castles and hilltop villages, rich in artisan, agricultural, musical traditions, enchanting hilly Apennine landscapes, forests and rivers.
Notes: The diet during the camp will be vegetarian and vegan. Volunteers will have access to free wi-fi in the building. In Cantalupo nel Sannio there are no ATMs: the nearest is 10 km in the town of Boiano. In the building it is not allowed to cook and eat meat nor fish or smoke (not even on balconies or windows). It is also recommended not to enter with shoes: volunteers can leave them at the entrance and wear slippers. In the free time the volunteers will enjoy wonderful walks in the forest. The organizers will also plan within the weekly program some excursions and visits to places of particular historical and naturalistic interest in the region.