Straw Bale bioconstruction in Spain
Topic:
11: Climate and sustainable lifestyle
Work Types:
Construction / Environment / Manual
Free places for Females:
1
Free places last update:
09 Aug 2019
International age:
18 - 65
Extra fee to be paid in the hosting country:
0.00 Euro
Spoken Language:
English, French, Italian, Spanish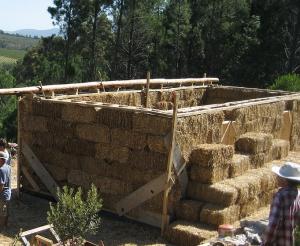 Description: "Amasarte" is a non-profit association which was founded in 2008 by a small collective of artists.
Focusing on theatre, nature and sustainability, our activities are mainly for children and people with disabilities. Now we want to develop a new space in order to make new activities for all type of people. This new place will be made of natural materials. We want to share this knowledge so anyone can learn how to make their own bio climatic house easy, healthy and affordable.
We invite you to learn how to build a straw bale and clay plaster house surrounded by a wonderful natural environment. We tend to use renewable energies, and have a low impact on nature in our daily life by making compost, using eco-toilets, consuming local products …
Type of Work: We will have two different types of work. Both fun and easy. One will be the work with straw bales: fitting them in a wooden structure to build the wall, sorting up doors and windows. The other one will be to use clay plaster to cover the straw bale walls (we will provide gloves)
6 hours of work a day are required in the morning. Free time from 3:30 pm and a free full day per week.
Study Theme: Environmental bioconstruction, rural life promotion, arts & crafts.
Accommodation: The Camp will take place in the countryside in between two villages, 1.5km from a lake. In order to be able to remain together as a team, the volunteers will stay in tents. Tents, soft mattress and pillow will be provided, but if you have a tent, please bring it. Bring your sleeping bag and your shower towel as well. There are eco-toilets and showers with hot water. Please, aware use of water is required.
There won't be a kitchen available for the volunteers. We will provide healthy and balanced vegetarian food (breakfast, lunch and dinner; also snacks and fresh juices in between meals).
Language: English and Spanish
Approximate Location: Villanueva de la Vera (Cáceres), Spain (190km from Madrid to the East).
Notes: A positive attitude to work with straw and clay is very important! Teamwork is essential!
About the food, special menus are possible if you tell us in advance (vegan, gluten-free, non-dairy …)