Mission: Wolf Caring for Wolves and their Habitat
Country:
United States of America
Topic:
10: Environment protection
Work Types:
Environment / Work with animals
Free places for Females:
6
Free places last update:
04 Mar 2020
International age:
18 - 99
Required Language:
English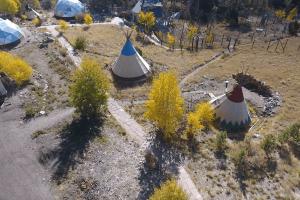 Description: "Mission: Wolf was created out of the need to provide life-long homes for captive wolves and wolf-dogs, and allow humans a chance to understand them." In the 198os the founders of M:W began to take in former pet wolves, which the previous owners' could no longer care for. To give these animals a safe place away from people, the created M:W's current location in the mountains of Southern Colorado. 2020 marks the 30th year of SCI-IVS USA camps at M:W and over 200 volunteers have dedicated their service there. M:W recognizes the importance of helping people reconnect with and understand nature, and they focus on sustainability, operate on solar power, and build with recycled materials.
Type of Work: Daily rituals start with a morning feed and a count of the wolves. They all get a small bit of food and are checked to make sure they are all moving and healthy. The volunteers do not involve to feed the wolves and to haul the water to the enclosures daily. Twice a week volunteers must cut, distribute and haul a few hundred pounds of raw meat for the wolves. This is the highlight of the week typically and all of the volunteers are expected to help. This involves cutting up dead animals that are donated by local ranchers as they pass. This is a big job and one that brings out emotions in everyone involved. In addition, volunteers must cook for themselves, as a group. The rest of the time is spent working on the facility.
Accommodation: All of the water and electricity come straight from the resources on the Mission:Wolf site. Everything is solar powered, including the water pump. Any showers must be taken during the day and not early in the morning or in the evening. The same rules apply to laundry. If the volunteers can combine loads of laundry that works best. It's recommended for volunteers to bring their own tents and sleeping bags. Everyone without a tent will be provided with a place to sleep but it may not be as comfortable as if have their own tent.
Language: English and Spanish
Notes: Additional application submitted to Mission: Wolf is required