Rome International Soup Festival
Topic:
13: Community life
Work Types:
Environment / Festival / Manual
Number of places still available:
9
Free places last update:
12 Mar 2020
International age:
16 - 99
Required Language:
English
Motivation letter:
This camp requires an additional motivation letter to explain in more detail why you would like to attend.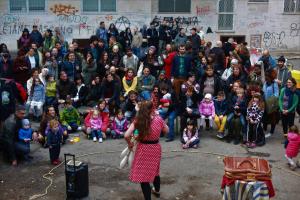 Description: "La Città dell'Utopia" (The City of Utopia) is a project of SCI Italy located in San Paolo district, Rome. The project is an experiment in creating active citizenship and local development. Different events, initiatives, courses and laboratories concerning interculturality, sustainable lifestyle and active citizenship take place here. The "Soup Festival Phenomenon" occurred in Lille in 2001 and has since then successfully spread all over Europe. In Italy, the festival appeared for the first time in Bologna in 2004. In Rome, the Festival has tried to create a joyful moment through the concept of soup for 13 years. This year the topic of the Festival is the Partigiani of the past and present.
Type of Work: The activities that will be carried out during the camp will include support for preparing the space and the thematic development of the festival.
Basic activities include:
support of the construction of the scenography
the preparation of the space
support on the promotion of the festival
re-arrangement of the place at the end of the festival
Study Theme: There will be two study parts during the camp, one focusing on the environment and the other one on the theme of the festival: the Partigiani of the past and present. The specific content of the study parts is still under construction. Non-formal education will be the approach and methodology used to carry on these parts.
Accommodation: Volunteers will stay in the hostel of Casale Garibaldi, located in La Città dell'Utopia. They will be sleeping in mixed dorms, shared by 5 people. Beds, bedsheets, pillows and blankets are provided, but you must bring your own towel. There is a shared toilet located on the same floor as the hostel. It has 3 showers and 3 sinks, two of the latter located in the space before the bathroom. Hot water is available, be reasonable. A kitchen is available, volunteers will cook, eat and clean together. More info http://www.lacittadellutopia.org/ostello-sociale/
Language: English is used as a common language, Italian is the local language. You can also find people speaking French, Finish, Spanish or Greek.
Requirements: Teamwork skills Interest in organizing events Manual and artistic skills Interest in ecology
Notes: Exact location : Via Valeriano 3/F – La Città dell'Utopia, M2 Basilica S. Paolo, Roma, Lazio, Italia