Olinda: renovation, inclusion&mental health (Milano)
Data di inizio:
11 Mag 2017
Tematica:
5: Povertà e ingiustizia sociale
Opzioni:
Accessibile a disabili
Tipologia di attività:
Manuale / Restauro, ristrutturazione / Sociale
Posti liberi per uomini:
0
Posti liberi per donne:
0
Posti disponibili, ultimo aggiornamento:
26 Apr 2017
Età internazionale:
18 - 99
Costi supplementari da versare una volta arrivati nel paese ospitante:
0.00 Euro
Lingua opzionale
Italiano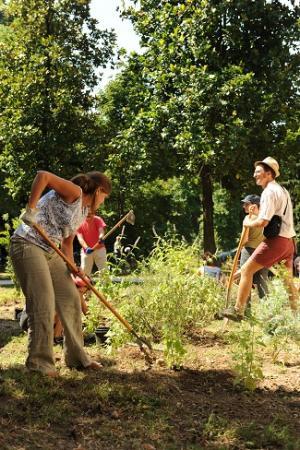 Descrizione: The association Olinda onlus was born in January 1996 in Milan, in place of the former "Paolo Pini" Psychiatric Hospital. The mission of the association is to promote social integration of people with mental health problems. The association yearly organizes the cinema/theater festival "Da vicino nessuno è normale" ("Nobody is normal, if you look closer"), runs the "TeatroLaCucina" theater, organizes theater workshops, promotes volunteering, and hosts social events (events for children, sports, etc). La Fabbrica di Olinda is the other side of the coin: it runs commercial activities (a bar/restaurant, a hostel, a bistrot inside the Elfo Puccini theater) where people with mental health problems can work to reach a better social integration and autonomy.
Tipologia di lavoro: Volunteers will help in the renovation of some spaces outside and inside the buildings of the Olinda association: cleaning of the garden and of the space in front of and behind the hostel; building benches and tables with recycled materials; planting some mosquito repellent plants in the gardens; plowing and sowing in the small vegetable garden behind the hostel; building and installing signs to help people reaching the hostel; possibly whitewashing some rooms of the hostel.
Parte studio: Together with the experts from the association, volunteers will learn about the "Basaglia Law" (one of the most advanced laws in Europe regarding mental health) and why Italian psychiatric hospitals have been closed and replaced by more open and human mental health centers.
Alloggio: Volunteers will be accomodated in the OstellOlinda hostel. They will sleep in beds in shared rooms. They must bring their own sleeping bag.
Lingua: Of the two languages spoken within the camp, English and Italian, only English is required.
Requisiti The following skills are appreciated but not required: artistic skills, decoration skills, craft skills (furniture renovation), gardening skills.
Ubicazione approssimata: The workcamp site is in a suburban area inside the city of Milan. The closest airports are Malpensa and Linate (Milan) and Orio al Serio (Bergamo). The closest train station is the Central Train Station of Milan.