Reproduction of an Iberian village with experimental archaeological techniques
Data di inizio:
02 Lug 2018
Tematica:
12: Arte, cultura e storia locale
Tipologia di attività:
Archeologia / Costruzione / Manuale
Numero di posti ancora disponibili:
2
Posti disponibili, ultimo aggiornamento:
29 Giu 2018
Età internazionale:
18 - 99
Costi supplementari da versare una volta arrivati nel paese ospitante:
0.00
Lingua opzionale
Catalano, Inglese
Campi aperti a bambini
Sì (Eta minima: 0)
Lettera di motivazione:
Questo campo richiede una lettera di motivazione addizionale per spiegare più dettagliatamente perché vuoi partecipare.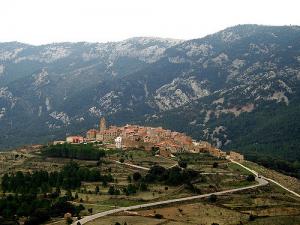 Descrizione: Volunteers will participate in an archaeological excavation reproduction which forms part of a wider project aiming to use archaeology and local history to preserve and promote heritage and culture to the local community and to international volunteers.
Tipologia di lavoro: - Building replicas of the three houses excavated in the Iberian village of La Morranda, these are small constructions of a plant, with a small stone base and with adobe (Earth Brick) walls.
The process of elaboration following techniques of experimental archeology would be: extraction of clay, elaboration of adobe with straw and clay, manufacture of the tovots (Bricks), drying and construction of the wall.

The utensils used would be: the cart, the hoe, shovels, buckets, picket, stems, stakes and strings.
Alloggio: - Volunteers will be welcomed in private homes in the village of Ballestar. The biggest, "carrer Major, 26" fits perfectly for 20 people, but we have more houses available.
Meals will be made in this same house. Members of the group of volunteers and members of the association will prepare the food. Special diets can be accommodated.

You don't need to bring a sleeping bag.
Lingua: English, Catalan, German, French
Requisiti Motivation letter is required.
No archaeological experience is required, but any prior knowledge is welcome. Please be aware a good level of fitness is necessary as the camp involves heavy physical work.
Ubicazione approssimata: Parc Natural de la Tinença de Benifassà
Note: The local organization makes a big effort to make volunteers involved on the local culture, so there are several activities planned with that goal: cultural tours, visits to natural sites, participation on village festivals, canoeing, etc.
Children and families are welcome, but it's not a family camp, so your children maybe will be the only ones there.
Descrizione dell'organizzazione: SCI Catalunya is the Catalan branch of SCI, one of the 2 SCI branches in Spain. We are based in Barcelona and our working area covers the Catalan countries (including Catalonia, Valencia, the Balearic Islands and Andorra). The other provinces of Spain are covered by SCI Madrid. SCI was founded in 1982 and he organization works on both a global and local level. On the global level, we organize international workcamps in the above mentioned territory Long Term Voluntary Projects (including EVS), trainings and seminars. . On the local level, we work to promote peaceful social transformation of society in order to encourage sustainable human development and a culture of peace, through volunteer groups, involving our community and local networks.