Camp code:
JP-NIC 13.1802232
Data di inizio:
23 Feb 2018
Tematica:
13: Vita comunitaria
Tipologia di attività:
Agricoltura
Posti liberi per uomini:
0
Posti liberi per donne:
0
Posti disponibili, ultimo aggiornamento:
11 Gen 2018
Età internazionale:
18 - 99
Costi supplementari da versare una volta arrivati nel paese ospitante:
0.00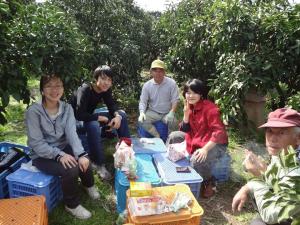 Descrizione: This project is organized together with Kikuya Community Group (KCG), formed by the local young people to think of the future of their small village, since 2008. Ikata is famous for oranges farming, but has been facing depopulation, lack of workers and aging society since most of young people leave the town. So, the number of abandoned orange farms is increasing and the town is losing its tradition, life, custom and scenery. KCG strongly hopes to host vols. to work together to animate the town and revive the farms.
Tipologia di lavoro: We will help orange farming such as harvesting, taking care of trees, cutting grass etc.. We will separate into 5-6 groups to help different farms. Work is physically hard from early morning to evening. We will also visit school to organize class for international interact.
Parte studio: Volunteers will get knowledge of agriculture, especially about mandarins.
Alloggio: Volunteers will stay in old traditional house. Meals will be cooked by volunteers by turns.
Lingua: English (Japanese is welcomed since local people speak only in Japanese.)
Requisiti Interested in agriculture, high motivation to speak Japanese with local people
Ubicazione approssimata: In the edge of Sata Peninsula, surrounded by the sea, so fishing is also famous. There are only 30 houses in this community. The climate is relatively warm though it can be cold in winter.
Note: Other activities: Onsen(hot spring), exchange party