Rome International Soup Festival (Roma – Lazio)
Data di inizio:
05 Apr 2018
Tematica:
12: Arte, cultura e storia locale
Tipologia di attività:
Festival / Manuale / Sociale
Numero di posti ancora disponibili:
1
Posti disponibili, ultimo aggiornamento:
21 Mag 2018
Età internazionale:
16 - 99
Costi supplementari da versare una volta arrivati nel paese ospitante:
0.00
Lingua opzionale
Catalano, Inglese, Francese, Italiano, Spagnolo
Lettera di motivazione:
Questo campo richiede una lettera di motivazione addizionale per spiegare più dettagliatamente perché vuoi partecipare.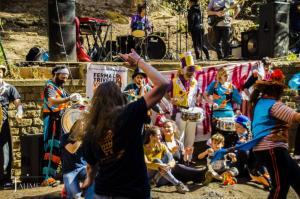 Descrizione: "La Città dell'Utopia" is a project of SCI Italy located in San Paolo district, Rome. It is an experiment to create active citizenship and local development. We organize events, initiatives, courses and laboratories concerning three topics - interculturality, sustainable lifestyle, active citizenship. The "Soup Phenomenon", occurred in Lille in 2001 and successfully propagated all over Europe, appeared in Bologna in 2004. Since 10 years in Rome the Festival tries to create a joyful moment through a rich plate, popular and recognizable around the world. The Festival participants compete for the "Golden Ladle". This year the major topics of the Festival are: recycling&reusing&reducing and the topic of Food, as a resource and good, not to be exploited and to be respected.
Tipologia di lavoro: The activities that will be carried out during the camp include the support of the space preparation and the thematic development of the festival. Basic activities:
support of the construction of scenography
the preparation of the space
support of the promotion of the festival
communicative actions on the separate collection and recycling of garbage during the festival
re-arrangement of the place in the end of the festival
Parte studio: The study part will aim at the organization and construction of some actions during the festival.The first phase of the study: exchange of Information and issues connected to garbage recycling and original modalities to create awareness of local citizens. The second phase of the study: workshops on the topic on awareness on food.
Alloggio: The volunteers will stay in the hostel of Casale Garibaldi, where La Città dell'Utopia is located. There will be mixed room, for maximum 7 volunteers per room. There will be beds, bedsheets, pillows, blankets. No towels provided. The bathroom is shared. There will be a kitchen available for the volunteers: they will eat all meals together in the hostel, sometimes with other people who attend the Casale for their activities. The voluunteers will be responsible for cooking, cleaning and tiding up of the space and furniture they use.
Lingua: Bulgarian, Greek, Ukranian will be spoken as well
Requisiti Group working skills, interest in organizing events, manual and artistic skills.
Ubicazione approssimata: San Paolo neighborhood, city of Rome, Italy
Note: Minors will be asked to have a Skype call with SCI Italia before confiriming the acceptance.