Horses and social inclusion near Rome
Data di inizio:
29 Lug 2018
Tematica:
9: Persone con disabilità
Tipologia di attività:
Attività con bambini / Sociale / Attività con animali
Numero di posti ancora disponibili:
1
Posti disponibili, ultimo aggiornamento:
03 Ago 2018
Età internazionale:
18 - 99
Costi supplementari da versare una volta arrivati nel paese ospitante:
200.00 Euro
Breakdown:
Accommodation and food: 0.00 Euro
Transportation: 0.00 Euro
Activities: 0.00 Euro
Hosting organisation support: 200 Euro
Motivazioni per i costi extra:
The extra fee (100 euros per week) is for the children of volutneers, since they will participate to the same activities of the guests of the association.
Lingua opzionale
Inglese, Italiano
Campi aperti a bambini
Sì (Eta minima: 8)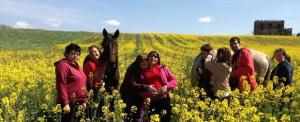 Descrizione: Ciampacavallo O.N.L.U.S. and EquiAzione join together to offer social services at local communities. They organize rehabilitation activities, sport and ludic practices for disabled people with mental, relational or social disorders. All the activities are integrated, which means they are planned and realized together by the staff and users. They organize services for all the people who want to approach horses in a different way from sport or traditional equestrian center. This way of working, purely non assistential, allow to create an authentic relational dimension.
Tipologia di lavoro: Every week there will be different kind of users: disable people, children, social workers, volunteers, trainees and horse passionate. All the workcamp activities will be organized in mixed groups made by volunteers and other users. Daily activities are: feeding and cleaning the horses, kitchen, shopping at nearby farms, etc. Moreover, we will prepare the sowing and clean the part of the house which hasn't been renewed yet.
Parte studio: During the workcamp period we will organize different study moments about local plants and animals, the history of the human presence in the territory and the horses use in the tradition. Different worshops about traditional jobs might be organized with the support of local elderlies: cheese making, leather working, manteinance of saddles and harnesses, agriculture.
Alloggio: Volunteers will sleep in tents, inside the structure that is hosting the camp. The tents can be either brought by the volunteers or provided by the organisation on request. Three bathrooms are available for all the guests of the structure. There are two kitchens (one indoor and one outdoor) to cook the meals. The presence of a cooker is foreseen during the workcamp but, among the various activities, volunteers might be asked to help in the kitchen.
Lingua: A basic level of Italian is appreciated, as it facilitates the integration between volunteers and users of the camp.
Requisiti Adaptability to a context of scarce privacy, team work, punctuality, flexibility and tolerance. Attitude to work with animals (especially horses) would be preferable, manual skills. We remind that the camp includes working with disable people in every activity.
Ubicazione approssimata: The workcamp site is in the South of Rome, in a village called Pratoni del Vivaro, 30 km far from Rome, direction Velletri\ Roman Castle. The camp site is located at 580 mt upon the sea level. The nearest town are Rocca di Papa and Rocca Priora, 10 km far. It is possible to reach Rome by bus in 1,30 h.
Note: Every volunteer should bring: tent, sleeping bag, waterproof jacket, trekking clothing, trekking shoes, mosquito repellent. We have Wi-Fi connection at the camp site. The mobile line works with all companies except for "Wind". Climate is fresh and variable during summer.