Along the Rivers of Memory (in the Ural taiga)
Paese:
Russian Federation
Data di inizio:
29 Apr 2018
Tematica:
12: Arte, cultura e storia locale
Tipologia di attività:
Archeologia / Costruzione / Studio, discussione, ricerca
Numero di posti ancora disponibili:
6
Posti disponibili, ultimo aggiornamento:
13 Mar 2018
Età internazionale:
18 - 99
Costi supplementari da versare una volta arrivati nel paese ospitante:
50.00 Euro
Motivazioni per i costi extra:
The money will be included into the budget of the camp and will be spent on the needs of the project.
Lingua opzionale
Inglese, Russo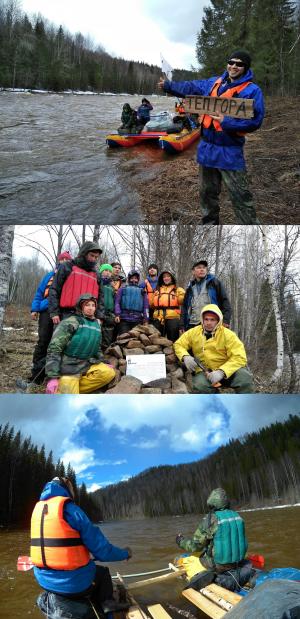 Descrizione: In this expedition, volunteers will explore the local lore and regional history. The participants will search and gather materials about political repressions of the Soviet period in Perm region.
Tipologia di lavoro: The main topic of the workcamp is collection of materials connected to the history of political repressions during the Soviet period and perpetuation the memory of the victims of terror. The project includes research and a rafting trip along the rivers of Perm region to visit and survey the places of the former Gulag settlements in the Ural taiga.
Parte studio: The main aim of the expedition is to learn about the history of political repression during the Soviet period.
Alloggio: The volunteers will live in tents in the wild nature during the rafting trip and in schools when staying in towns.
Requisiti Sleeping bag and warm clothes are necessary (the temperature during the nights can be below zero degrees Celsius). The project will demand serious physical exercise, certain deprivations and inconveniences.
Ubicazione approssimata: The city of Perm, Vizhay River, Gornozavodsk District and Usva River, Gremyachinsk and Chausovsky Districts of Perm Region.
Note: All necessary equipment (catamarans, tents, etc.) will be provided by "Memorial". The organization will also cover expenses related to food, accommodation, educational and cultural events and local transport (from Perm city to the camp and back). Please watch the documentary https://youtu.be/u3voFog_g0o before applying.
Descrizione dell'organizzazione: Perm regional branch of the society "Memorial" is a civic non-profit organization established in 1988. The aim of the "Memorial" is to engage young people in social and political activities, in civil actions and protection of young people's rights. About 50 volunteers work in our organization taking care of 60 elderly victims of the Soviet political repressions. These volunteers tidy up flats, help with shopping. They also provide psychological support just visiting these people and speaking with them. Every year "Memorial" organizes about 6 workcamps with the main topic history and human rights, which are run in Perm region, in Urals.