Artemista: rural architecture & artistic activities
Data di inizio:
02 Ago 2018
Tematica:
12: Arte, cultura e storia locale
Tipologia di attività:
Arte / Festival / Manuale
Numero di posti ancora disponibili:
1
Posti disponibili, ultimo aggiornamento:
30 Lug 2018
Età internazionale:
16 - 99
Costi supplementari da versare una volta arrivati nel paese ospitante:
0.00
Lingua opzionale
Inglese, Italiano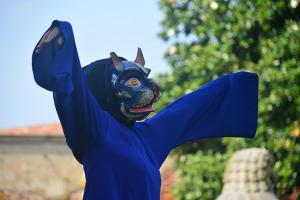 Descrizione: The Cultural Association ARTEMISTA deals with artistic, cultural, environmental and social educational projects. It was born out of the gathering of artists coming from music, theater, comics, photo, video. Artemista is established within Cascina Castello, an ancient agricultural building of the XVIII century with parts dating back to the Xth century, turned into a hostel and a cultural center of exhibition and artistic production. Located in Spessa, a timeless rural area which lies directly on the fields leading to the forests and beaches of the river Po, in front of the green hills of Oltrepo' Pavese, the place has preserved an ancient natural beauty, with open spaces, away from the congestion of heavily urbanized areas, though it is near Milan, a European metropolis.
Tipologia di lavoro: The first days of the camp will be dedicated to the preparation of an event called "Festival of the countries of the World", which will take place on 4th and 5th of August. We will take care of setting up the spaces for the shows and preparing the scheduled dinners. After the event, we'll dedicate ourselves to the renovation of the cultural center, in particular of the rooms dedicated to theater and music and of the stores. We'll do some manual work such as: painting and woodwork, arrangement of warehouses (cleaning and reorganization), construction of structures and shelves. Concomitantly to the workcamp SCI, will be running a summer camp for children, with whom volunteers can interact.
Parte studio: While working, we'll learn more about rural architecture and how renovations are carried out in historical buildings. We will also organize excursions in the surroundings and moments of participation in our theater and music activities. A moment will be dedicated to the international volunteers during the "Festival of the countries of the World". Each of the volunteers should bring something from his or her country: a small testimony, some objects, music, images. We will need them to create a "Window on the World".
Alloggio: Volunteers will stay in two bedrooms of Artemista Hostel (for 6 and 4 people). Sheets will be provided, while the volunteers should bring their own towel. Shifts will be organized between volunteers for the cleaning of the bedrooms, common areas and the kitchen, as well as for cooking. We'll eat together. There is access to internet in the hostel. There is no bank and no shop in the town where we are. It's necessary to go by car to reach a place to buy something, so it won't be possible to do it everyday.
Requisiti We ask volunteers to be motivated and to have a predisposition to manual work.
Ubicazione approssimata: The workcamp will take place in a very isolated area called Cascina Castello, in the small municipality of Spessa, 40km from Milano and 20km from Pavia.