Summer in the Villagio Carovana 2
Data di inizio:
22 Lug 2018
Tematica:
9: Persone con disabilità
Tipologia di attività:
Attività con bambini / di Salute / Sociale
Numero di posti ancora disponibili:
1
Posti disponibili, ultimo aggiornamento:
10 Lug 2018
Età internazionale:
18 - 99
Costi supplementari da versare una volta arrivati nel paese ospitante:
0.00
Lingua opzionale
Inglese, Italiano
Lettera di motivazione:
Questo campo richiede una lettera di motivazione addizionale per spiegare più dettagliatamente perché vuoi partecipare.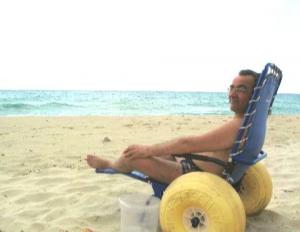 Descrizione: The social cooperative "Villaggio Carovana" hosts people with physical or mental disadvantages. Human relationships are at the basis of a more just, inclusive and pacific world and offer greater occasions of happiness. Villaggio Carovana offers its guests the possibility to spend an holiday in a beautiful and interesting place both at geographical and social level. They are accommodated in rooms thought to allow everyone to be comfortable, while morning activities as eating or relaxing take place within the rest of the community in the common areas of the house. The Cooperative offers also a support service to go to the beach. The house is located in the countryside in Castiadas, South-East of Sardinia, about 6 km from the sea and 4 km from the nearest residential area.
Tipologia di lavoro: Volunteers will support the workers of the Cooperative in their daily activities, such as welcoming the guests, helping the ones who are not self-sufficient (e.g. accompaniment to the beach, night-time care, assistance with hygiene, entertainment); organising entertainment for guests, especially for children. They might be asked to participate to some minor indoor or outdoor maintenance activities, for instance painting or taking care of the vegetable garden. The volunteers are expected to work about 6 hours per day, which do not include their participation to the ordinary daily-life activities such as cleaning the common areas and the kitchen, cooking.
Parte studio: The study part will be about the practices of social inclusion promoted by the Cooperative. Attention will be given to workcamp sustainability (food choice, waste collection, recycling, critical consumption, etc.). Moreover, meetings and activities about SCI will be organized and realized through non-formal methods.
Alloggio: Volunteers will be accommodated in a tent or a caravan into "Villagio Carovana" (Castiadas). Bathrooms and showers are shared, and are both indoor and outdoor. "Villaggio Carovana" is in the countryside, isolated from the centre (Castiadas is 5 km far from Villaggio Carovana). To move, it is necessary to get the bus, which passes several times in a day just in front of the house.
Lingua: Minimum knowledge of Italian language can help to communicate with the "special guest"; however it is not compulsory.
Requisiti A strong sense of responsibility is essential, as well as a strong disposition towards human relationships and empathy, motivation to work with non-self sufficient persons, flexibility, and manual skills. The volunteer should be open to community life. A motivation letter and a skype call is required for this workcamp. Minimal knowledge of Italian language would be appreciated.
Ubicazione approssimata: Cagliari Airport of Elmas; Alghero Airport; Central Train Station of Cagliari; Maritime Station of Cagliari.
Note: During their free time volunteers can go to the beach (6 km far from Villaggio Carovana), do trekking or cycling, visit the historical museum or go to Cagliari. Volunteers must bring sleeping bag, sleeping mat, towel, hat, sunscreen, a flashlight, bug spray, and of course a swimsuit and towel for the beach. For more information on Villaggio Carovana visit http://www.youtube.com/watch?v=BmmQwUX22dw