Promoting Health and wellbeing for the children in Kibunranga Community
Questo progetto fa parte dei programmi Nord/Sud. I volontari devono avere almeno 20 anni e aver preso parte alle formazioni (primo incontro e 2 livello) di preparazione organizzati dallo SCI Italia. Consigliabile avere precedenti esperienze di volontariato. Maggiori informazioni: campisud@sci-italia.it / Tel: 065580644

Data di inizio:
02 Nov 2018
Tematica:
3: Solidarietà internazionale
Tipologia di attività:
Agricoltura / di Salute / Sociale
Numero di posti ancora disponibili:
13
Posti disponibili, ultimo aggiornamento:
19 Set 2018
Età internazionale:
20 - 99
Costi supplementari da versare una volta arrivati nel paese ospitante:
210.00 Euro
Motivazioni per i costi extra:
210 EUR participation fee per work camp includes transport to/ from Kiburanga – Nairobi (Volunteers will travel as a team to/from the camp site), 1 night hostel accommodation in Nairobi, Feeding and Accommodation during the work camp, Orientation Day, Administrative Cost of the Hosting Organization. Fee to be paid upon arrival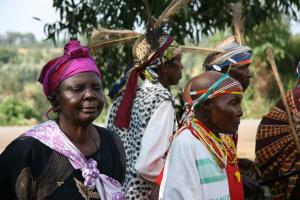 Descrizione: Kiburanga Community Based Organisation is an indigenous non-political membership organization which is non-sectarian and non-profit making started in 2007 as a work camp organization and a community based organization.Through the volunteers support and that of other like-minded development organizations, we can mobilize human material resources to enhance active participation of those recipients to development policies to significantly address the problems that hinder human and environmental friendly development approaches so that we sustain our collective efforts to eradicate poverty. Kiburanga promotes voluntary services in one of the most remote and inaccessible parts of Kenya, Kuria, where poverty levels are high and education lowest in the country.
Tipologia di lavoro: The main activities will be:
The main aim of this activity is to engage the community to improve their health
Educating and community helping local expand upon community sanitation
To plan a workshop on Mobile clinic treatment
Helpin in farming project
The volunteers and the community members will also have the chance to take part in our other regular community activities
HIV/AIDS education
Awareness raising and education on FGM (female genital mutilation /girl cut), that is still practice in the community
Home visits/ cultural exchange with community members
Impact on community development initiatives
Teaching kids, games and songs
Gender equality and women empowerment activities
Girl child education
Parte studio: Community Development, Cultural Exchange
Alloggio: The community will accommodate volunteers in a house provided by the local people, with separate room for male and female volunteers. There are pit latrines, no running showers but bath-shelters for use and majority of homes have no electricity. We strongly advice volunteers to be flexible and easily adapt to the provision of other culture within the local environment and appreciate its uniqueness. Volunteers will sleep on the floor (affordable mattresses can be purchased in the community or volunteers bring their own mattress along) to experience the complex development challenges.
Lingua: A very basic level of English is required.
Requisiti Volunteers from the North are advised to come with an open mind and to be highly flexible and respectful towards cultural differences. You´ll go to contribute and learn, not to give mandatory lessons.
Ubicazione approssimata: KIBURANGA, Kuria region is located near Isebania town, in Migori county, about 500km from Nairobi (approximately 8 hours by minibus), 4 km from Tanzania and it borders Masai-Mara game reserve.
Note: Please, after being accepted and receiving the info sheet, inform if you are vegetarian, vegan or you have any special diet.