Yoga as a lifestyle in La Città dell'Utopia (Rome)
Data di inizio:
08 Set 2018
Tematica:
13: Vita comunitaria
Tipologia di attività:
Pace / Sport / Yoga
Numero di posti ancora disponibili:
0
Posti disponibili, ultimo aggiornamento:
04 Set 2018
Età internazionale:
18 - 99
Costi supplementari da versare una volta arrivati nel paese ospitante:
0.00
Lingue richieste
Italiano
Lingua opzionale
Italiano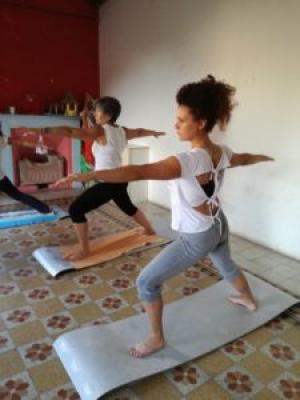 Descrizione: "La Città dell'Utopia" (The City of Utopia) is a project of SCI Italy located in San Paolo district, Rome. The project is an experiment in creating active citizenship and local development. Different events, initiatives, courses and laboratories concerning three different topics: interculturality, sustainable lifestyle, active citizenship are taken place here. The Eduyoga workcamp was born after the succesfull experience of the Eduyoga course, which has taken place in Città dell'Utopia since years now and which reflects the idea of a lifestyle in syntony and in relation with the others and with the environment around.
Tipologia di lavoro: Practical part: the program imagines a practical part whcih includes positions, breathing, relaxing, concentration and meditation. It imagines also a mantainance part of the Casale of Città dell'Utopia, as a contribution to the creation of a shared space. Theoretical part: it imagines also a theoretical part which consists in reflections on teaching of Yoga to develop balance among the individual components (physical, energetical, emotional and mental) and harmony between the individual and the external world.
Parte studio: A series of mini-themes related to Yoga as a lifestyle will be organised: Presentation/introduction to the evolutive method of Eduyoga; Respiration as a source of life; Healthy habits, hygiene, alimentation; The body of energy, positions and relaxation; The gymnastic of the mind, concentration and meditation; The unitary vision of life.
Alloggio: The volunteers will be hosted in the social hostel of Casale Garibaldi in the venue "La Città dell' Utopia". They will sleep in common (female/male) rooms. There will be provided beds, mattresses, sheets and blankets. The bathroom will be on the same floor and shared by all the volunteers.
Lingua: For this workcamp, a good level of knowledge of Italian language (understanding) is required, since meditation and yoga will be run in Italian. In the camp site, English is spoken too.
Requisiti Participants should:- wish to extend their knowledges and open mindness and willingness to work in group - Respect the program of camp and to participate in all activities - Follow the instructions.
Ubicazione approssimata: Fiumicino Airport, Ciampino Airport, Termini station, Tiburtina station in Rome