Creative Activities with Young Immigrants
Data di inizio:
20 Giu 2018
Tematica:
2: Rifugiati, immigrati e minoranze etniche
Tipologia di attività:
Attività con bambini / Manuale / Sociale
Numero di posti ancora disponibili:
0
Posti disponibili, ultimo aggiornamento:
30 Mag 2018
Età internazionale:
21 - 99
Costi supplementari da versare una volta arrivati nel paese ospitante:
0.00
Lettera di motivazione:
Questo campo richiede una lettera di motivazione addizionale per spiegare più dettagliatamente perché vuoi partecipare.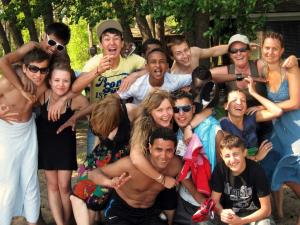 Descrizione: A family group home of Ingakoti in Ingå hosts children and young people who have come to Finland as asylum seekers without their families. The family group home provides these children and young people with daily activities like school, hobbies and a homelike environment. Since Ingå is a small town, the family group home wants to welcome international volunteers to make the summer holidays more enjoyable for the youngsters. Activities in the camp will be organised together with the reception centre of Siuntio that is situated in the town nearby.
Tipologia di lavoro: Volunteers of the camp will spend time with the children and teenagers of the family group home of Ingakoti and the reception centre of Siuntio and organize activities with them. The volunteers can also help in the garden and with painting. Some of the work in the camp will also be helping to close down the reception centre of Siuntio by emptying the buildings, for example.
PLEASE NOTE: It is very important to keep in mind that the camp is not for making interviews or collecting information about the experiences of the residents. The aim is to have a good time and organize activities together.
Parte studio: Volunteers will become familiar with the topics connected to immigration and especially how it is to live as a young immigrant in Finland. They will also get to know about the local culture of Ingå and Siuntio.
Alloggio: The volunteers will be staying in a shared room, sleeping on mattresses on a floor.
Lingua: English
Ubicazione approssimata: Ingå, Southern Finland