Solidarity with Refugees in Serbia
Data di inizio:
01 Lug 2018
Tematica:
2: Rifugiati, immigrati e minoranze etniche
Tipologia di attività:
Sociale / Studio, discussione, ricerca
Numero di posti ancora disponibili:
0
Posti disponibili, ultimo aggiornamento:
19 Giu 2018
Età internazionale:
18 - 99
Costi supplementari da versare una volta arrivati nel paese ospitante:
0.00
Lettera di motivazione:
Questo campo richiede una lettera di motivazione addizionale per spiegare più dettagliatamente perché vuoi partecipare.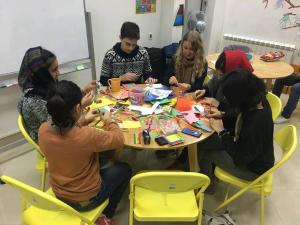 Descrizione: In this camp, born from the cooperation between the Serbian branch of SCI and the local NGO Refugee Aid Serbia, volunteers will have the chance to know more about reality of asylum-seekers, refugees and displaced people who are transiting through Serbia through different activities aimed at improving their position as well as their contact with local communities and through study sessions on the topic. Volunteers will support the work of two different NGOs, one cooking meals for refugee population living in camps (entering the camp will not be possible though) and one dealing with non-formal education and awareness raising.
Tipologia di lavoro: The volunteers will be cooking for 3 days, and organizing workshops for 2 days. Mornings will be mainly dedicated to study sessions, visits as well as cooking with the NGO BelgrAid, that serves hundreds of meals daily to the inhabitants of one refugee camp in the surroundings of Belgrade. In The Workshop, a space for leisure and non-formal education for children, youth and adult refugees managed by the local partner Refugee Aid Serbia, volunteers will organize workshops (leisure type) to the beneficiaries of the day center with the help of experienced supervisors. There might be the possibility to organize activities aimed at awareness-raising, directed to the local community. Previous experience in delivering leisure-type workshops (crafts, photography, computer literacy...) is a plus.
Parte studio: Volunteers will be able to visit places in Belgrade where refugees gather, receive help and take part to non-formal educational activities, learn more about the situation of asylum-seekers, displaced people and refugees in the country and improve their knowledge about the so-called Western Balkans migratory route. Moreover, volunteers will be trained to deliver recreational workshops to refugee children and youth. Participants will be informed about a code of conduct to be observed when organizing activities for refugees and will be given relevant preparation.
Alloggio: Volunteers will be accommodated in a hostel in the neighborhood of Savamala, center of Belgrade. Meals will be prepared by volunteers on shifts, in the hostel's kitchen. The place where cooking activities will take place is located 40 minutes by bus away from city center, bus tickets will be provided. The place where workshops will be held is at 10 minutes walk from the hostel.
Lingua: The language between the SCI volunteers will be English. Other languages used in the camp: Serbian, Farsi, Urdu, Pashtu, Arabic, Kurdish as well as other languages spoken by refugees and asylum-seekers in Belgrade.
Requisiti Participants should be interested in refugee issues, willing to know more about life of refugees and displaced persons in Serbia as well as about ways in which civil society can contribute to their education, inclusion and wellbeing.
Ubicazione approssimata: Belgrade is the capital city of Serbia.
Note: Free time will be provided according to the amount of working hours, camp leaders will suggest activities for free time as well as the best places to visit in Belgrade. In case you wish to visit Belgrade extensively, we recommend you to book your tickets one or two days before or after the camp dates. For those nights, organizers will not cover your accommodation but can help you to find one, or you can stay at the same hostel at own expenses.