Oasis of care for disabled children from Sahrawi refugee camps 4
Data di inizio:
16 Ago 2018
Tematica:
2: Rifugiati, immigrati e minoranze etniche
Tipologia di attività:
Attività con disabili / Attività con bambini / di Salute
Numero di posti ancora disponibili:
0
Posti disponibili, ultimo aggiornamento:
11 Set 2018
Età internazionale:
18 - 99
Costi supplementari da versare una volta arrivati nel paese ospitante:
0.00
Lingua opzionale
Inglese, Italiano, Spagnolo
Lettera di motivazione:
Questo campo richiede una lettera di motivazione addizionale per spiegare più dettagliatamente perché vuoi partecipare.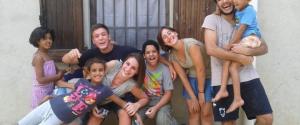 Descrizione: Shanti Sahara was founded to support people from Western Sahara and face the sanitary crisis affecting the Saharawi refugee camps, where each year more and more children are born with disability. Within the framework of the project "Young Peace Ambassadors" the organization welcomes a small number of disabled Saharawi children over the summer allowing them to receive medical care they wouldn't otherwise get access to in the refugee camps. Over the next summer, in July and August, Shanti Sahara will host 9 children affected by different types and degrees of disability. The organization will grant medical care to each child, together with improving their awareness of hygienic practices and allowing them to follow a complete and balanced diet.
Tipologia di lavoro: Each volunteer will work 5/6 days a week – in the morning (8:00-15:00) or afternoon (15:00-22:00) shift. Each volunteer will be on the night shift (22:00-8:00) once or twice a week. The volunteers will have 1/2 days off per week (days off will be defined according to the needs of the organization and upon volunteers' request). All volunteers will be responsible for: looking after the children, accompany them at the hospital and medical practice (doctor's visits, hospital stays, blood tests), take part in the lesiure time activites (playing with the children, trips to the swimming pool, to the beach, parties). Volunteers will also be responsible for the childrens' hygiene, preparing meals for them and other volunteers, cleaning the residency (rooms, bathrooms, laundry, kitchen).
Parte studio: Volunteers will receive specific training to understand the pathologies/disabilities of each child; hygienic/sanitary standards to be followed will be illustrated. Volunteers will be given the presentation on the Sahrawi issue, the history of Western Sahara and the dynamics that have determined the current situation. Themes such as religion, music, Saharawi traditions will be explored through group activities (the traditional tea making ritual and the preparation of cous cous, the traditional Saharawi dish), screening of the movies and documentaries.
Alloggio: International volunteers will share a mixed room with other volunteers, everyone will sleep on matresses (no beds are available). They will have a dedicated bathroom and other spaces to be shared with all volunteers. Some spaces might need to be shared with the children as well.There is no wifi connection.
Lingua: Fluency in spoken English (the language spoken by most volunteers, and camp coordinators). It would be useful to know Italian (language spoken by all local volunteers and people in the local community, and most of the kids) or Spanish (spoken by many local volunteers and kids).
Requisiti Volunteers are not expected to have any prior knowledge or skills. All we ask for is an hard working attitude, willingness to learn, openness to other people and cultures. Volunteers should have: ability to adapt; socio-cultural awareness; flexibility.
Ubicazione approssimata: The camp will take place in two different locations. In Lavagna from 16/08 until 25/08. Lavagna is a maritime city. All amenities including shops, supermarkets, restaurants, parks and beaches are close by. Cities such as Portofino can be reached by bus, while Genoa can be easily reached by train. On 25/08 the volunteers will move to Cernusco sul Naviglio and stay there until 1/09: Located in Northern Italy. All amenities including shops, supermarkets, restaurants and pubs, parks and swimming pools are within walking distance. Milan can be easly reached by underground.
Note: It's essential to keep in mind that:
Children are between 6-15 year-old and have different needs according to their age;
Some of them will have never been apart from their parents and families before. Therefore they might be quite vulnerable from a psychological point of view, and might need special care, attention and support.
Children will be finding themselves in a very different context: used to living in the extremely poor and precarious reality of Saharawi refugee camps and inadequate hygienical conditions, children will need guidance from volunteers to learn the basic hygienic practices. Their routine is also different from the routine of kids raised in the West (for instance they are used to spending quiet days, praying 5 times a day) and as such must be respected.