Questo progetto fa parte dei programmi Nord/Sud. I volontari devono avere almeno 20 anni e aver preso parte alle formazioni (primo incontro e 2 livello) di preparazione organizzati dallo SCI Italia. Consigliabile avere precedenti esperienze di volontariato. Maggiori informazioni: campisud@sci-italia.it / Tel: 065580644

Camp code:
ID-PKB 10.1905
Data di inizio:
01 Mar 2019
Tematica:
10: Protezione dell'ambiente
Tipologia di attività:
Ambiente
Posti liberi per uomini:
6
Posti liberi per donne:
6
Posti disponibili, ultimo aggiornamento:
02 Nov 2018
Età internazionale:
18 - 99
Costi supplementari da versare una volta arrivati nel paese ospitante:
165.00 Euro
Motivazioni per i costi extra:
The cost will cover the accomodation, Food, Material of the project, IIWC-Tshirt and Certificate of participation.
Lettera di motivazione:
Questo campo richiede una lettera di motivazione addizionale per spiegare più dettagliatamente perché vuoi partecipare.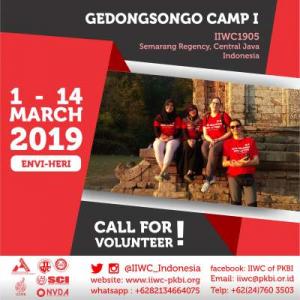 Descrizione: Background: Gedongsongo is one of national heritage situated in Central Java. There are 5 temples in the areas and the temples and became an attractive place for holiday, especially for regional tourist. This temple also surrounding by many intangible heritage such as dance, music, and festival that should support on the temple preservation matters. But still the environment awareness, socio economic background, sanitation and hygiene of the local people need to be improved. Most of the locals are earning money from the vegetables garden. The limitation of environmental friendly awareness from the local visitor as well as the sellers, this situation left many garbage in the temple area. The increasing number of visitor each year also contributed vandalism at the temple become one of the bi
Tipologia di lavoro: Work: Mainly will work in changing behavior activities of the local people toward their environment such as recycle garbage, introducing personal hygiene related to the environment condition, organizing additional English lesson and school visit, and playing games with children. There will be also possibilities on physical work such as cleaning the temple, planting trees, gardening, or making sign board/garbage bin. there will be also a class fro Javanese culture like traditional dancing will be arranged.
Alloggio: Host family, sleeping bag or and mattress needed, self cooking, and self managing.
Lingua: English
Ubicazione approssimata: Candi Village, Gedongsongo, Bandungan, Semarang Recency, Central Java Indonesia
Descrizione dell'organizzazione: IIWC (Indonesian International Work Camp) is one of PKBI (Eng: Indonesia Planned Parenthood Association) program who deal with IVS movement since 1999.