SAVWA Food Gardening Project
Questo progetto fa parte dei programmi Nord/Sud. I volontari devono avere almeno 20 anni e aver preso parte gli incontri di preparazione al volontariato internazionale, organizzati dallo SCI Italia. Consigliabile avere precedenti esperienze di volontariato. Maggiori informazioni: campisud@sci-italia.it / Tel: 065580644

Data di inizio:
07 Ott 2019
Tematica:
11: Clima e stile di vita sostenibile
Tipologia di attività:
Agricoltura / Ambiente / Pace
Numero di posti ancora disponibili:
1
Posti disponibili, ultimo aggiornamento:
13 Gen 2020
Età internazionale:
18 - 99
Costi supplementari da versare una volta arrivati nel paese ospitante:
220.00 Euro
Breakdown:
Accommodation and food: 0.00 Euro
Transportation: 0.00 Euro
Activities: 0.00 Euro
Hosting organisation support: 220 Euro
Motivazioni per i costi extra:
The work camp participation fee is strictly Euro 220 and this covers simple accommodation, food and project expenses office running/administrative expenses, certificate of participation during the camp, communication prior to, during and after the camp. Please note that this does not include travel expenses to and from the camp, pick up from airport so participants are asked to reserve a small amount of money for transport to the camp and vice-verse. We advise all volunteers to ask for advice from us when they are planning to book their ticket to Pretoria.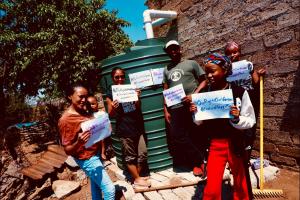 Descrizione: The South Africa Volunteer Work Camp Association (SAVWA) Gardening Project is a community lead innovative to encourage young people to promote low environmental impact living and eco-friendly practices. The emphasis is on the development of and to practice self-sustaining environmental awareness for climate change and sustainable living. We have seen the impact we have had on the environment and what better ways to be able to live sustainably.
Tipologia di lavoro: Volunteers will have an opportunity to get hands on training from relevant training personnel from Department of Agriculture and also some community based organisations working with the people.
We will have voluntary work at a informal settlement where various activities will be conducted. Volunteers are encouraged to bring an open mind as we will have various activities to keep them busy for the work camp period.
Parte studio: SAVWA Food Gardening Project to have positive impact of access to food in the community. Communities around the world are experiencing food shortages or inequality of food distribution.
Alloggio: Accommodation will be in a home, either Pretoria or Johannesburg. Participants will be required to bring their own sleeping bags. The accommodation has a simple bathroom with shower and there is running water. The accommodation and work place have flushing toilets and do have electricity.
Lingua: The community has multi-cultural people and English is mostly spoken with local languages such as Ndebele, Zulu, and other local languages
Requisiti Open minded, ready to interact with other people of different cultural background - Positive attitude - Willing to share his/her experiences - Flexible to live/stay in simple living conditions - Flexible to eat local food - No experience needed at all.
Note: The Weekend is meant to be for free tours that the group can organize by themselves at their own expense. All our work camps are reserved for cultural nights when each volunteer can present her/his country and culture.