Christmas in Betlehem, priceless experience
Questo progetto fa parte dei programmi Nord/Sud. I volontari devono avere almeno 20 anni e aver preso parte alle formazioni (primo incontro e 2 livello) di preparazione organizzati dallo SCI Italia. Consigliabile avere precedenti esperienze di volontariato. Maggiori informazioni: campisud@sci-italia.it / Tel: 065580644

Paese:
Palestinian Territory, Occupied
Data di inizio:
22 Dic 2019
Tematica:
3: Solidarietà internazionale
Tipologia di attività:
Patrimonio Culturale / Pace / Restauro, ristrutturazione
Numero di posti ancora disponibili:
24
Posti disponibili, ultimo aggiornamento:
19 Set 2019
Età internazionale:
20 - 99
Costi supplementari da versare una volta arrivati nel paese ospitante:
300.00 Euro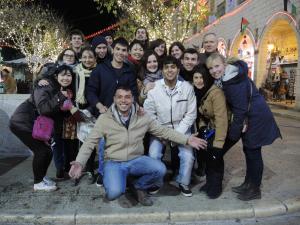 Descrizione: This workcamp will be organized by IPYL (International Palestinian Youth League) in collaboration with several organizations and the municipality of Betlehem. The project seeks to bring young people from various cultures together to build cultural bridges of understanding, reconciliation and global peace. There will be international and local volunteers.
Tipologia di lavoro: The volunteers will work in different areas in Betlehem city and surrounding areas. The work will include : painting, renovation, restoration, gardening, tree planting, etc. round the Christmas celebrations in the city of Betlehem. The afternoons will be dedicated to educational/cultural activities that will expose volunteers to Palestinian culture and history and will enable them to understand the realities of life under occupation. The program will include lectures, documentaries, visits to refugee camps in the area of Betlehem, tours of other places of interest as well as visits and meetings with actors of the civil society.
Parte studio: Christmas in Betlehem and the reality of life under occupation
Alloggio: The volunteers will be hosted in flats in Betlehem. The rooms wil be separate (men/women). There will be hot water and a kitchen with basic equipment where the volunteers will cook by themselves.
Lingua: English
Ubicazione approssimata: Betlehem