Data di inizio:
02 Lug 2021
Tematica:
10: Protezione dell'ambiente
Tipologia di attività:
Costruzione / Ambiente / Festival
Posti liberi per uomini:
7
Posti liberi per donne:
8
Età internazionale:
20 - 34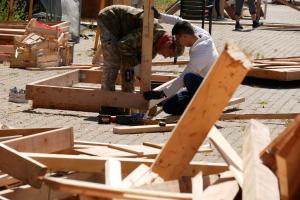 Descrizione: We are creating a festival for 600 festival guest lasting six full days. The festival concept is: build your own festival. Our goal is to enhance learning, craft skills, cultural exchange and make a movement around co-creation. Our goal is to create a sustainable festival with a focus on zero waste and to plant trees (last year we raised 3.000 euros for tree planting.At the festival, people can choose to build their own projects or join projects. We provide free tools and recycled building materials for everyone. Even though we focus on the building aspect, the festival is so much more, featuring live bands and DJ Is every night and workshops during the day. It is a co-creation festival, everyone helps to create the experience.The festival is only a small project part of a much greater project and vision. The large project called Grobund (meaning fertile soil) includes 160 people who have crowdfunded money to buy a large factory and 10 hectares of land, with the ambition of making a new off-grid tiny house eco-village and share factory facilities for green start-ups companies.The workcamp is organized by Noa Skovdal and Tore Muurholm Dahl and you can read more about the building festival on www.byggefest.dk and about the Grobund community on www.grobund.org.
Tipologia di lavoro: The aim of the workcamp is to help create the best possible building festival.Week 1: The week starts with two introduction days followed by a day of helping out at a wedding party on Friday 3rd July. It is two of our friends who are getting married, so fancy clothes are not expected. This week we will be setting up the festival by sorting wood, moving stuff around and making signs and decoration for the festival.You will also be working in the building area, bar, outdoor kitchen, dishwashing area, toilets sleeping area and the music stage.This week we take shifts in cooking for each other.Week 2: In this week, we are hosting the festival. Shifts include: check-in zone, kitchen, kids zone and tool shop. We also need one or two volunteers to work with taking photos, videos and making Social Media posts. Note that all festival guests are also assigned to minimum one volunteer shift (bar shifts, kitchen shifts, toilet maintenance and cleaning shifts), as the concept is a co-creating festival. Week 3: In this week, we are taking the festival apart, save stuff for next years festival and cleaning up the festival area. Further, we are making evaluations on the workcamp stay and the festival in general.
Alloggio: Everyone should bring a minimum a sleeping bag and a pillow. We have new bamboo toothbrushes, toothpaste and shampoo available here. Please also bring appropriate working shs and clothes both indoor and outdoor - the style ds not matter.We recommend that you bring your own tent. We will try to get tents for everyone who wants one but we cant make promises before we know how many need one. From experience we know that some people might not want to stay in tents due to temperatures (normally ranges 10-25 degree celsius, with few days of heavy winds). Therefore, there will also be an option to borrow a mattress and sleep inside in a big room with others.We have washing machines, kitchen facilities, toilets and showers. We encourage everyone to swim at the beach located a few hundred meters away.Everyone will take part in cooking, according to a plan we decide on together, as part of the work you will do during your stay. During the festival, we will have food served three times a day (all vegan/ vegetarian). We all clean together.
Lingua: eng,
Requisiti OBS To participate in this Work Camp, we require you to provide:A motivational letterTravel informationCOVID-19:In regards to COVID-19, it is our ambition to complete our Work Camps this summer, but it is essential for us, that our volunteers feel safe during the time they spend at our camps. This is why we constantly keep ourselves updated on the situation and we follow the Danish government s instructions. Furthermore, we are ready to answer any questions that you might have, and we will keep all our volunteers updated right up until the start of the Work Camp.As of March 2021, there is a few important things to mention:- it is free for foreigners to take a COVID-19 test upon arrival in Denmark- with the current vaccine plan, most Danes will be vaccinated at the end of June 2021Your Work Camp host will have guidelines on how to handle COVID-19 during your stay, including how to handle isolation and enforcement of government guidelines. We are looking for people who are open-minded, social and self-motivated. We expect that you treat both nature and others with respect. We do not require any previous experience but value a wide range of competences. We hope that you are eager to be a part of a team and create an incredible experience for yourself and others.English will be the only language spoken. All participants must be willing to speak English, even though being from the same country or having troubles with the English language. Try your bestOur factory and land are unfortunately not suitable for volunteers with disabilities.
Ubicazione approssimata: We are located by the sea (with our own sandy beach), in the countryside, but only five kilometres from Ebeltoft ( a lovely small city known as a great tourist destination. In your spare time, we have many things to do or see, and you can borrow a bike to explore the surrounding area. Some days it might be possible to borrow a car to take a trip, maybe to see Mols National Park or Denmarks second-largest city, Aarhus (45 minutes away by car).