CHAPTER: Challenging Propaganda Through Remembrance. "Remembrance week in Italy"
Data di inizio:
14 Giu 2021
Tematica:
1: Antirazzismo, antifascismo, memoria
Tipologia di attività:
Pace / Sociale / Studio, discussione, ricerca
Posti liberi per uomini:
8
Posti liberi per donne:
5
Posti disponibili, ultimo aggiornamento:
14 Giu 2021
Età internazionale:
16 - 99
Lingua opzionale
Catalano, Inglese, Francese, Tedesco, Ungherese, Italiano, Polacco, Spagnolo
Lettera di motivazione:
Questo campo richiede una lettera di motivazione addizionale per spiegare più dettagliatamente perché vuoi partecipare.
Attenzione: This project has a smaller work part and puts a bigger emphasis on the personal learning process than on the community impact.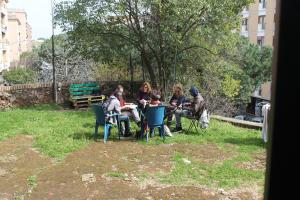 Descrizione: The Remembrance Week in Rome is part of a wider list of activities within the frame of the European Project "Chapter: Chellenging Propaganda Through Remembrance". The project gathers 25 representatives of organisations from 9 countries - Austria, France, Germany, Greece, Hungary, Italy, Poland, Catalunya and Bulgaria. Since 2014 Europe is facing the worst humanitarian crisis of refugees since World War II (WWII), the majority of them fleeing from Syria and Libya, while the economic crisis has been causing cuts to social inclusion, education and healthcare programmes. An in-depth analysis shows that current propaganda roots in methodologies and tools developed under totalitarian regimes.
Tipologia di lavoro: Participants, supported and guided by the Remembrance Messengers, will implement different activities aimed at going in depth into the following key words/topics:
Remembrance.
Propaganda and media
Nationalism
Hatred of the enemy
Grassroots media
Pacifism
Counternarratives
A Set of Infographics will be created on the basis of the researches participants will realize during the activity, focused on 10 specific topics:
Fear
Propaganda
Gender
Freedom of speech
Nationalism
History
Normalization
Youth
Social Frustration
Hate crimes
Parte studio: The study part will be all focused on propaganda during the WWI and WWII, connecting the features characterizing the public discourse during the 2 wars to the ones present in the current political speaches in each country involved in the project. This will be done by comparing the results of researches implemented by each participant before getting to the Remembrance Week and by a series of other activities like: visits to Resistance museums, archives, significant historical places, meetings with experts, discussions among participants.
Alloggio: The volunteers will be hosted in the social hostel of Casale Garibaldi in the venue "La Città dell' Utopia". They will sleep in common (female/male) rooms, three people in each room, in order to guarantee phisical distance. There will be provided beds, mattresses, sheets and blankets. The bathroom will be on the same floor and shared by all the volunteers.
Lingua: English
Requisiti Participants are required to bring to the Remembrance Week every material (soft and hard), pictures, fanzines, presentation, testimony that can give a contribution to the debate and to the research realization, according to the topics enlisted above.
Ubicazione approssimata: Fiumicino Airport, Ciampino Airport, Termini station, Tiburtina station in Rome
Note: The project aims to cast a light on propaganda before and during WWII, focusing on its role to enforce the concept of "enemy" - from national and ethnic groups to political opponents and social groups. Moreover a special attention will be given to the role of grassroots media and peace organizations in challenging propaganda through innovative communication methodologies and tools.
The project covers the costs for: travel (reimbursement up to 100 euros upon delivery of the boarding pass), food, accommodation, local transportation and health Insurance. Unfortunately, costs for the Covid-19 test cannot be reimbursed.
Here in the call for more details: https://sci-italia.it/call-for-participants-to-the-remembrance-weeks/?fbclid=IwAR0ZHO-eOuLXRcPTmyV1eYw1Soko4k21tpHt-_O9NNC080OJ8zXzfd