A journey with the peace caravan
Data di inizio:
27 Giu 2021
Tematica:
12: Arte, cultura e storia locale
Tipologia di attività:
Patrimonio Culturale / Pace / Restauro, ristrutturazione
Numero di posti ancora disponibili:
5
Posti disponibili, ultimo aggiornamento:
16 Giu 2021
Età internazionale:
18 - 30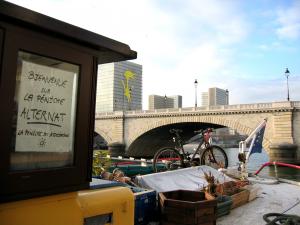 Descrizione: En 2020, le SCI fêtait ces 100 ans. Pour les fêter, le Service Civil International organise un chantier itinérant « La Caravane de la Paix » qui sillonnera les routes de France en début juillet 2020. Pendant 10 jours, un groupe de volontaires internationaux passera de chantiers, en actions ponctuelles dans différents endroits de France. Les volontaires auront la possibilité de voyager ensembles sur les routes de France et de faire étape chez des partenaires locaux pour les aider sur des projets courts ou pour participer à un atelier, ne passant pas plus de 3 jours au même endroit. Libres comme l'air !
Tipologia di lavoro: The first international work camp takes place in the Paris region, on a barge that belonged to SCI France 30 years ago, from June 27 to July 6. They will discover how life is like on a barge and will help with the renovation of the windows and the exterior painting. In addition, they will be asked to organize events on the barge, such as a cruise and open doors. They will also lead workshops to create educational tools on different topics: water, peace and climate change. On the morning of July 6, the volunteers will head to central Brittany, to meet with the locals and visit emblematic places of peace. On the 9th of July, they will go to Lille to participate in the organisation of the SCI General Assembly, where they will also have the honour to participate in the meetings and workshops.
Parte studio: During this traveling workcamp, volunteers will be traveling in a van for joining the three different workcamps and have the opportunity to discover French regional cultures. The idea is to experience diversity and promote peace, sharing, and accepting our differences.
Alloggio: Volunteers will sleep on the barge from June 27 to July 6, it is necessary to take a sleeping bag, then in central Brittany (Boquen) from the 6th to the 9th in the dormitory, and Lille (northern France) from the 9th to the 12th in the dormitory.
Lingua: English will be the language spoken between volunteers, but a basic knowledge of French is welcome to exchange with local community !
Requisiti Sleeping bag, work clothes. This project is financed by the European Solidarity Corps program, therefore you must be under 30 years old, from a European or neighboring country, transportation costs to Paris are covered and pocket money is given every day.
Ubicazione approssimata: The workcamp will take place in three different locations. Volunteers are expected to arrive in Paris on Sunday 27th of June to start the next day and will stay until July 6. They will go then to Boquen, central Brittany (July 6-9), and finally to Lille, northern France (July 9-11) and the volunteers will travel back to Paris with the van the 12th of July.
Note: If you like the workcamp, don't hesitate to have a look at the website of the barge! To see what they're up to : http://www.penichealternat.org/
Descrizione dell'organizzazione: La branche française du mouvement, créée en 1936 et actuellement à Lille.