Imaginatorium: Environmental Arts and Crafts Space
Topic:
7: Children and youth
Work Types:
Art / Work with children / Sport
Free places for Females:
0
Free places last update:
18 May 2018
International age:
18 - 99
Extra fee to be paid in the hosting country:
0.00
Required Language:
English
Motivation letter:
This camp requires an additional motivation letter to explain in more detail why you would like to attend.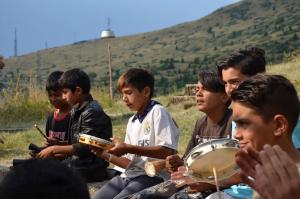 Description: Imaginatorium, formally defined as alternative educational centre, is a place and program GAIA initiated in Gracanica, in September 2016. It has been providing educational programs, skill-gaining activities, space, tools, materials, opportunities and support to children and youth of the community. As volunteers live in the house situated there, we are also neighbors, included in the life of the mahala (part of the village where mainly Roma live). From its beginnings, Imaginatorium was offering support in improving literacy and mathematics, learning languages, trying out in arts and crafts projects, offering different technological courses, musical and photography sessions, and much more. Staff of Imaginatorium is consisting of long term volunteers coming to Kosovo trough GAIA projects.
Type of Work: Work will be focussed on continuation of current and creation of new program activities with participants of the Imaginatorium, but also dealing with logistical and infrastructure questions of the center. Activities initiated by volunteers could be arts and crafts, DIY, recycle workshops, mathematics and literacy (languages) classes, music practices, sport activities and gardening. We might also work on renovation of the school and building furniture. Volunteers might also take part in some other activites of GAIA taking place in same time and experience community life in Roma Mahalla, visitn families and helping them out. Volunteers will be engaged in the community for minimum of five days of a week, six hours per day, whereas two days are left for leisure time and group travels.
Study Theme: Working with marginalized group, alongside people who live and work in the Roma community will provide possibility of experiencing learning and exchange, but it could also be beneficial for new youth and children educators and animators. Therefore, learning process will be experiential and informal focusing on proactive engagement of volunteers in the community and beyond it.
Accommodation: The group will be accomodated in the GAIA's house in Gracanica. The house for volunteers is sharing the yard with the main GAIA house, and has 2 rooms, kitchen and a bathroom. Volunteers will, organized in teams, cook and clean for themselves for the duration of the camp. The food will be vegetarian. Volunteers should bring sleeping bags and mats. Sleeping in the tents or under the open sky in the yard is welcomed.
Language: During camp, English is the main language we use to communicate and work among ourselves. During time spent with children, you are encouraged to speak English, even though most of the children do not understand it- but encourages them to learn the language. Participants of the center speak Romanes and Serbian, but some of them speak Albanian also. If you know some of the languages, you are welcome
Requirements: Volunteers should have some experience in working with kids, be motivated and flexible. People with various interesting and unique skills and talents are always welcome! As it is summer school break kids will be full of energy, so be prepared to invest a lot of your own :).
Approximate Location: Gracanica is the town where the camp will take place and it is 7km away from Prishtina, the capital of Kosovo. It is an Serbian enclave, with 14th century orthodox monastery that has, after the conflicts, became centre of Serbian culture and Serbian orthodox church. Gracanica town has around 11000 inhabitants, out of which around 1100 are members of Roma community. Near the town, there is an artificial lake - Badovac (5-7km), archaeological site dating back to 4th century - Ulpiana (2-3km) and bear refuge - Bear Sanctuary Prishtina (10 km) away from Gracanica.
Organization Description: GAIA, branch of SCI in Kosovo, is a peace organization working in a field of peace, understanding and solidarity between people, social justice and respect of environment. GAIA is also promoting cultural diversity and works on education and integration of marginalized and minority group in society. The main activities of GAIA are workcamps, youth exchanges, non-formal educational programs (trainings, workshops, seminars), organization of festivals, promotion of volunteering and solidarity in region of Balkans. www.gaiakosovo.wordpress.com