Solidarity with Refugees (Friedland near Göttingen)
Topic:
4: Peace and disarmament
Work Types:
Peace / Social / Study, discussion, research
Number of places still available:
0
Free places last update:
11 Jul 2018
International age:
18 - 99
Required Language:
English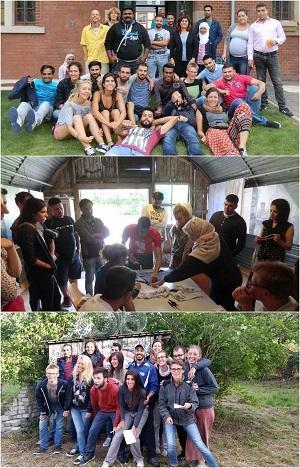 Description: The village of Friedland became the place of the largest German refugee camp after WWII. In March 1946, the first Workcamp of SCI Germany took place there in cooperation with the British SCI branch IVSP. Out of this engagement, local volunteers founded SCI Germany. 70 years later, many refugees, mainly from the Arab world, pass through the camp. The local Museum Friedland now reflects on the different refugee movements and reactions to this at different times. We will work in a community garden with locals and refugees and receive an introduction into the history of past and present forced migration through the Friedland Museum. For more information, please visit this link
Type of Work: The work will take place in the community garden at the outside of Friedland. We will do maintenance work in the garden and prepare it for future use by creating spaces of exchange for visitors. We will also construct fences and beds for the plants and harvest fruits. The garden shall be a platform of interaction for refugees, locals and volunteers. Our group will therefore invite refugees and other interested local people to join us and connect the garden with other international garden projects in Göttingen. At the end, we will have a summer celebration in the garden with villagers and other interested people.
Study Theme: Using the garden as a reference point, we will try to better understand the connections of humans and nature. Study parts will deal with the impact of climate-change for forced migration and approaches to a sustainable lifestyle. Also, we will analyze the international gardens as a tool of integration for refugees and asylum seekers and give practical input on how to organize own voluntary activities in this field. We will transmit these lessons in the form of learning by doing, with continuous reflection, and by giving space to your own initiative to shape the garden.
Accommodation: We will be staying in the centre of the local sports club in Friedland with one big room for the group to sleep in and a community room including table soccer and a projector. WiFi is provided; Showers can be divided by genders, the dormitory room functions for all volunteers
Requirements: Interest in manual work in a garden; Intercultural competencies since you will interact with refugees. Your own initiative and ideas to shape the garden
Approximate Location: Friedland is a village of about 3000 inhabitants in the centre of Germany. It is located 8 minutes by train from Göttingen, an old university town and centre of culture.
Notes: To get an idea about the project check out this page!
Organization Description: This workcamp is organized by the German branch of Service Civil International (SCI). SCI Germany was founded in 1946 and is approved as a non-profit organisation. We are one of the oldest peace and volunteer organisations. SCI Germany aims to promote peace, non-violence, international solidarity, social justice, sustainable development and cross-cultural exchange through international voluntary work. We cooperate with a network of branches and partners in more than 90 countries. Every year, SCI Germany organizes about 50 international workcamps in Germany.