Topic:
12: Art, culture and local history
Work Types:
Art / Construction / Cultural heritage
Number of places still available:
3
Free places last update:
11 Jun 2021
International age:
18 - 99
Extra fee to be paid in the hosting country:
300.00 Euro [1365 Polish Złoty]
Breakdown:
Accommodation and food: 0.00 Euro
Transportation: 0.00 Euro
Activities: 0.00 Euro
Hosting organisation support: 300 Euro
Purpose of extra costs:
Participation / Extra fees support the ongoing work of SEEDS and our activities. For this particular case the entire fee might not necessarily go towards your camp. The fees of your camp are mainly used for: - Provision of food and/or accommodation, some extra free time activities, transport from the meeting point. - Support for the ongoing work of SEEDS and our activities, such as co-funding for our long-term volunteers and project coordinators and administrative costs of the association.
Required Language:
English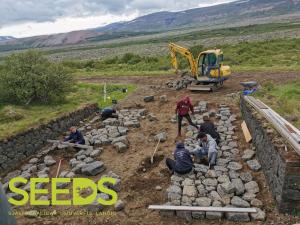 Description: SEEDS volunteers will again have the opportunity to contribute to this special art and culture project in the west of Iceland. Since 2000, our hosts have been creating and developing an art residency camp, outdoors and indoors art exhibitions and a chapel for all types of religions which are open to the public. The residency grew around an old abandoned farm which has been in the process of transformation for the last 20 years. The residency supports various art and culture activities, especially for young artists, as well as scientific research. Since the start of the project there have been thousands of visitors and plans exist to expand the residency with several more houses that will be built using stone, turf and driftwood from the region.
Type of Work: The art residency is home to the artworks of Páll Guðmundsson, a famous local artist known for his use of stone as an art medium. His inspiration comes from Icelandic nature and traditional culture. SEEDS volunteers will help with various tasks, such as maintenance work in the artwork garden; some of the group may help with painting the artist's workshop and some work in and around the chapel. Depending on the projects' needs we may also help in maintaining a walking path from the sculpture garden towards a small canyon where some outdoor artwork can be found and help with setting up and moving the artwork, taking down old fences, hand-picking trash and generally beautifying the surroundings.
Study Theme: The working day normally runs from 9:00 am to 17:00 (5:00 pm), with breaks for lunch and coffee. No previous experience is necessary but the work is demanding and requires a good physical condition; it can at times be repetitive but always rewarding. As it is outdoors work, volunteers shall be ready to adapt and be flexible with the working and free-time schedule, as, depending on the weather, we may not be able to perform some of the tasks or activities planned. The working plan will depend on the needs of our local host, the progress of the diverse projects in the area and of the weather.
Accommodation: SEEDS volunteers will stay in a local house; sleeping in shared rooms on mattresses in a sleeping bag accommodation. Please bring your own sleeping bag. Volunteers will receive food ingredients and will be in charge of cooking and cleaning. Do not forget to bring some traditional/typical food, drinks, music and recipes from your country for the intercultural evening.
Language: English will be the language in the camp; basic conversational skills are needed.
Requirements: Volunteers need to be motivated to work outdoors on physical jobs and in changeable weather. Bring warm winter clothes, under layers, waterproofs, walking shoes/boots, a good sleeping bag, hat, scarves and gloves.
Approximate Location: The project takes place in the western part of Iceland, in a unique natural environment with breathtaking landscape, between glaciers and lava fields. The place is like an oasis in the desert, as the weather there is often better than in the surroundings. Among the natural wonders nearby are the Hraunfossar waterfalls, where water pours out of a lava field over a length of 1 km. In addition to natural wonders this area is also famous for being one of the first settled locations in Iceland and featured in some of the oldest Icelandic sagas.
Notes: Participation fee EUR 300 (Euros). Please note that the fee can either be transferred in advance via bank transfer, or paid for on arrival. The participation fee does not include the transportation from Reykjavík to the camp and back, which will cost EUR 30 one way or EUR 60 both ways. This work camp takes place in a remote region, in a natural area of extreme beauty. Our hosts will organise some free-time activities, for instance hikes or visits to the beautiful surroundings. Other excursions (e.g. Golden Circle or Snæfellsnes Peninsula) can be organised at discount fares for SEEDS volunteers
Organization Description: SEEDS is an Icelandic non-governmental, non-profit volunteer organisation designed to promote intercultural understanding, environmental protection and awareness through work on environmental, social and cultural projects within Iceland. SEEDS works closely with local communities, local authorities and other Icelandic associations both to develop projects in partnership, aimed at fulfilling an identified need, and to give assistance to established initiatives. Projects are designed to be mutually beneficial to all involved: the volunteers, the local hosting communities and Iceland as a whole. Every year host more than 1200 international volunteers from 50 to 60 different countries.