Get in Contact with the Youth (Trebnitz Castle near Berlin)
Data początkowa
19 Lip 2020
Data końcowa:
02 Sie 2020
Temat:
7: Children and youth
Rodzaje pracy:
Art / Cultural heritage / Work with children
Number of places still available:
0
Free places last update:
16 Lip 2020
International age:
18 - 99
Required Language:
Angielski
Spoken Language:
Niemiecki, Polski
Motivation letter:
Ten projekt wymaga dodatkowego listu motywacyjnego.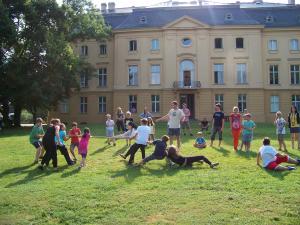 Description: The Trebnitz Castle ("Schloß Trebnitz e.V.") is an educational and meeting place with a political and cultural profile and a focus on international exchange projects, especially with Eastern Europe. The castle is located about 70 km from Berlin and 30 km from the Polish border. The educational offer is mainly aimed at children and young people, but there are also seminars and further training courses for adults. For many years now, a 10-day holiday for children and young people from the region and Poland, whose parents often cannot afford to travel, has taken place during the summer holidays. The workcamp is intended to make different cultures experienceable for the children.
Type of Work: Free time activities for the children and young people on 10 days, e.g. in the form of various creative workshops, games, sports and leisure activities, which the SCI volunteers will prepare and carry out for the children in small groups during the first 3 days of the camp. Joint work in and around the castle. The project will take place in cooperation with the Gustav Seitz Museum, which is located on the castle grounds. Parallel to the workcamp a German-Polish sculptor pleinair is planned. The children will be allowed to look over the artists' shoulders and it is expected that they will also offer artist workshops for the children.
Study Theme: At the beginning of the camp the volunteers will acquire pedagogical and intercultural skills in a 3-day workshop and get to know working methods of non-formal education for working with children. Together with the experienced team from Trebnitz Castle, the holiday offers for children will be worked out in the form of workshops during these first days, in order to be carried out in small teams after the children have arrived. The method of language animation will also play a role. During the holiday time, participative teamwork in an international group will be experienced.
Accommodation: Accommodation in the castle in shared rooms. Catering by the local house kitchen. In the evenings and on weekends, it is also possible to barbecue together, have a campfire and bake in the clay oven. The current pandemic protection regulations valid in Brandenburg/Germany will be followed for room and meals and for the type of programme. During Workcamps, disinfectants will be provided in toilets and canteen. Please wear mouth and nose protection on your arrival.
Język: Knowledge of German or Polish is advantageous, but not a condition.
Requirements: Willingness to integrate and acquire pedagogical, social and intercultural skills. A sensitive approach to children and young people is required. Motivation letter is required.
Approximate Location: TREBNITZ CASTLE (near Berlin)
Notes: Working hours in this camp are different from normal. All volunteers will have free time, but not together as a whole group. Free mornings and afternoons and a day off for each person will be discussed together at the beginning of the planning. Although the supervision of the children is the responsibility of the team at Schloß Trebnitz, it is possible that the children will approach you in your free time. In spite of all the effort that working with children involves, participation in the workcamp brings a lot of fulfilment, experience and fun.
An excursion to Berlin is possible in your free time. More information is [here](http://www.schloss-trebnitz.de and http://www.schloss-trebnitz.de/ein-ort-fur-die-kunst/)
Organization Description: This workcamp is organized by the German branch of Service Civil International (SCI). SCI Germany was founded in 1946 and is approved as a non-profit organisation. We are one of the oldest peace and volunteer organisations. SCI Germany aims to promote peace, non-violence, international solidarity, social justice, sustainable development and cross-cultural exchange through international voluntary work. We cooperate with a network of branches and partners in more than 90 countries. Every year, SCI Germany organizes about 50 international workcamps in Germany.