Welcome to the Park! (Glucholazy)
Data początkowa
25 Lip 2020
Data końcowa:
08 Sie 2020
Temat:
12: Art, culture and local history
Rodzaje pracy:
Environment / Cultural heritage / Manual
Number of places still available:
4
Free places last update:
24 Cze 2020
International age:
18 - 30
Required Language:
Angielski
Spoken Language:
Angielski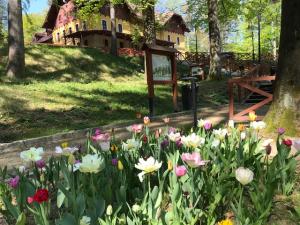 Description: Benevolens Foundation has been taking care of a part of historic Spa Park and historical building in Głuchołazy – southern Poland for 4 years.The history of the park dates back to the end of the 19th century and the city is almost 800 years old. In 2016 we reconstructed part of historic park basing on archival postcards. There are paths with educations boards and places with benches and tables to relax surrounded by variety of plants. Its renewed and willingly visited by tourists, but still it requires care and maintenance. Besides, in our park there is a breeding colony of rare species of a bat strictly protected by Polish law and therefore there is a special protection zone in here. The project will take place for the third time.
Type of Work: Gardening, forestry, cleaning and maintenance works in a historic park (including mowing, weeding, transplanting, cutting wood, chopping firewood, collecting deadwood, laying wood etc).
Study Theme: History and nature. These two will be presented during the whole workcamp. You will learn about history of the region and Ballestrem family (magnates in Upper Silesia untill II World War) and also about the rare species of plants and animals found in this area – Opava Mountains Landscape Park. If you are lucky, you will see more than 100 bats in one attic! And finally you will have opportunity to find out why it is so important to care for the preservation of biodiversity and cultural heritage.
Accommodation: In a nearby summer camp center. Separate building for 10 people, accommodated in 2- and 3-beds shared rooms, with access to wc and warm showers. All the meals will be provided at the center. Internet available by WiFi.
Język: English
Requirements: We are looking for passionate nature lovers, interested in landscape protection. You also have to be moderately fit, can chop and saw wood, like gardening and forestry works. In your application we would like to see that you are motivated to join our great project! Due to financial restrictions (financed by European Solidarity Corps), maximum age is 30.
Approximate Location: Charming place in historic Spa Park on the slope of park Mountain in the "Opava Mountains" Landscape Park. Głuchołazy is a city in southern Poland, in the Nysa poviat, in the Opolskie Voivodeship, on the border with the Czech Republic. The Głuchołazy commune has numerous hiking trails around the Opava Mountains (Eastern Sudetes), perfect for hiking and walking trips. Beautiful, mountainous areas (the highest peaks around 900m a.s.l.) with rich flora and fauna, clean, healthy air, many architectural monuments.
Notes: The project is sponsored in frame of European Solidarity Corps. The participants will receive partly the travel costs back after the project.