Spring rejuvenation of Eco Farm & Animal Sanctuary
Datum početka:
02 Jun 2018
Datum završetka:
23 Jun 2018
Tema:
11: Climate and sustainable lifestyle
Work Types:
Poljoprivreda / Fizički rad / Rad sa životinjama
Slobodna mesta za osobe muškog pola:
7
Slobodna mesta za osobe ženskog pola:
6
Trenutni broj slobodnih mesta:
07 Jun 2018
Godine stranih volontera:
16 - 99
Godine domaćih volontera:
18 - 99
Dodatni troškovi:
100.00 Euro
Purpose of extra costs:
The family running the farm/sanctuary is asking for additional costs to cover food expenses of volunteers. The fee to pay (100€) is maximum, we will try to get donations and inform volunteers in advance if the fee is reduced.
Obavezan jezik kampa:
Engleski
Mogući jezici na kampu:
Nemački, Slovenački
Child friendly camp
Da (Minimum age: 0)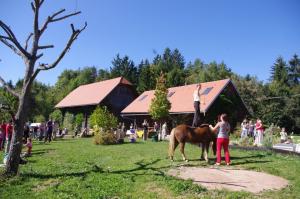 Opis: V pravljici (In a Fairy-tale) is an eco-farm and sanctuary with rescued farm animals in Slovenia. We offer you a unique experience of living in a beautiful natural environment with almost all kinds of farm animals. We will be making new housings for animals, constructing an underground greenhouse from recycling materials and plant the garden. Plenty of leisure activities, biking, hiking.
The workcamp lasts 22 days. It is not compulsory for volunteers to stay during the entire duration of the camp. The minimum number of days is 10.
Vrsta posla: There will be plenty of construction, planting in and around the farm, taking care of animals (feeding, cleaning), so some physical abilities are preferred. Cooking and gardening work is also everyday activity.
Studijska tema. You will learn according to your choosing in theory and practice about working and communicating with animals, eco and permaculture gardening, basic eco / sustainable living solutions and healthy veggie cooking. Work will be 7-8 hours a day, 2 days per week are off. If you will stay on the farm on the free days, you are expected to help with cooking and cleaning.
Smeštaj: You will be sleeping in a huge hay barn in the hay or in a tent (bring one with you, please). Everybody, please bring your sleeping bag, towels an all you need.
Kvalifikacije: Open mind, ready to get dirty and happy, ready to try new things, team spirit. If too many people are interested, those with skills or experiences in construction, gardening and animal work will be accepted.
Lokacija Terminala: The farm is very near (7km) from the capital city Ljubljana with airport and train station.
Beleške: We have 6 years of experiences in welcoming volunteers from all around the world. And we are very happy to host all different and interesting individuals. We try our very best to make you feel appreciated and happy. You will learn as much as you want and can. Individual arrangements for staying or studying are possible after the project ends.