Ky Quang Pagoda - Ho Chi Minh
This project is part of the SCI North South Programmes. Volunteers should be 20 years old, have previous volunteering experience and take part in the Preparation Workshops organised by their sending branch. More details from your sending branch.

Topic:
7: Children and youth
Work Types:
Work with children / Manual / Social
Number of places still available:
9
Free places last update:
06 Apr 2018
International age:
18 - 99
Extra fee to be paid in the hosting country:
250.00 US Dollar
Purpose of extra costs:
Cost breakdown: for food, accommodation, local travel to project, admin cost, project support & donation.
Required Language:
English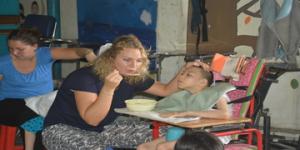 Description: Ky Quang Pagoda was built in the early part of the 20th Century in 1924 and is relatively famous in Ho Chi Minh City. The pagoda is now a place of charity for unlucky children and a traditional medicine clinic for local residents. Many children here have been abandoned by their parents and relatives, babies are often found at the front gate of the pagoda and then taken in. The children here have very various backgrounds. Some are physically or mentally disabled, some are blind or suffer from Down Syndrome, some are Agent Orange victims during the Vietnam War, some are orphans, and the others come from poor families.
In teaching, we aim to provide English language speaking environment for children. In caring, we aim to bring a better social life for the children.
Type of Work: There are three main activities for volunteers:
Teaching English
Caring (caregiving) for orphan and abandoned children
Caring for disabled children
Depend on volunteer's motivation and the need of project, volunteers will be responsible for either taking control of the English class, taking care of the disabled children, or playing with the orphans in the kindergarten.
For teaching, Volunteers will spend time with the children and help to improve their English, organize games and other activities for them. Volunteers will also do some manual work such as cleaning, renovation, etc. depend on the need of orphanage/pagoda. There is a possibility that volunteers will be placed in supporting children with disabilities on the disabled children room.
Study Theme: Taking care for orphan children or Teaching English
Accommodation: Volunteers will stay in a dorm, sharing rooms with other volunteers. Maximum of 7 - 9 people per room, in 9 bunk beds. The house has Toilets & hot showers, and ceiling fans. The house has TV, free WIFI,fridges,and cooking facilities.
Language: Country language is Vietnamese
Requirements: Volunteers must be 18 years old minimum. Volunteers must show their willingness to help and ability to stay self-motivated. For teaching, volunteers need to take the initiative in planning and taking classes. Most importantly, volunteers need to have confidence in the classroom and time management skills to ensure an effective lesson.
Approximate Location: Ho Chi Minh City, Vietnam
Notes: Insurance : VPV does not provide any kind of insurance. It is volunteers' responsibility to buy insurance that covers the whole period of his/her stay in Vietnam.
More info will be available in the infosheet
Organization Description: Volunteers For Peace Vietnam (VPV) is a non-profit, voluntary organization founded in 2005 with the aim to promote voluntary service as a mean of cultural and educational exchange among people, for peace and friendship, and as an approach to address social problems. VPV hosts international volunteers from different countries and places them in suitable projects depending on the interest of the volunteers and the needs of local communities. VPV also brings the opportunities for Vietnamese to join voluntary projects around the world. By joining our programs, volunteers will experience inter-cultural living and working environment and have a chance to help those in needs. Over the past 8 years VPV has welcomed over 4,500 international volunteers from over 30 different countries. VPV is working in various locations in Vietnam, including Hanoi and Ho Chi Minh City. VPV offers programs for individual volunteers and group volunteers, for duration from 1 week to 1 year. Our projects cover areas of education, child care, animal rescue and care, environment and community development, public health and medical support, cultural heritage preservation and youth action. Since 2008, VPV Ho Chi Minh has welcomed over 2,000 international volunteers.