The Culture Factory (Wetzikon ZH)
Topic:
12: Art, culture and local history
Work Types:
Construction / Manual / Restoration, renovation
Number of places still available:
8
Free places last update:
11 Jun 2019
International age:
16 - 99
Extra fee to be paid in the hosting country:
0.00
Required Language:
English
Spoken Language:
English, German
Child friendly camp
Yes (Minimum age: 0)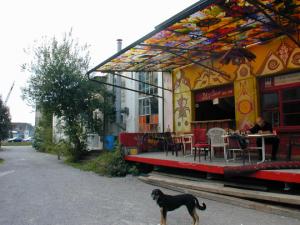 Description: The Culture Factory Wetzikon (or "Kulti" as locals call it) is a place for all to experience and create culture. It aims to be independent and autonomous to the greatest extent possible. Formerly a foundry, people started living in the factory 1980. They rebuilt most buildings to make the place suitable for living. At the moment 40 people aged between 1 and 66 years are living there. Culture, art, music and various ateliers have been an element of the Kulti since its very beginning. Now, after so many years, the Culture Factory is in strong need of renovation, for which it needs your help.
Type of Work: In 2020 the culture factory will be 40 years old, so our factory is continuously in need of a little care. We would like to do the following work: Gardening (maintenance of shrubs, trees, meadows or paths); in our "Beiz" (Restaurant) we will renovate the ceiling, install a ventilation system, and carry out various repairs in the kitchen; in order to help promote our events we intend to make different signs (wood / metal) and paint these beautifully (here there are no limits to your creativity); general maintenance work - painting, repairs at entrances, roofs and furniture.
Accommodation: There is a guest room with 6 + 2 additional beds as well as a shared flat with 4 -6 more beds. Showers and toilets are separate from your living quarters and used by all people living there. Please be aware that the hygienic standard could be lower than your expectations and depends also on your (/ the group's) effort. You can use the dining room to stay in during your free time. Some of the common rooms are not smoke-free. Breakfast will be prepared by the volunteer group, lunch and dinner – will be prepared by Leo and others from the Culture Factory, who will also be buying the food.
Language: The local language is Swiss German but people also speak other languages.
Organization Description: SCI Switzerland is a non-profit-organisation which stands for intercultural exchange, sustainable development and non-violent conflict resolution. It is certified with the Intermundo-SQS-label, which guarantees high quality standards in youth exchange. SCI Switzerland has been organizing workcamps and long-term exchanges for volunteers worldwide since 1920. Each year, more than 100 volunteers from Switzerland engage in SCI projects abroad, while around 200 international volunteers work in projects in Switzerland. Swiss workcamps have a main focus on the work and exchange with children and youth living in asylum-seeking centres as well as environmental protection. In that line SCI Switzerland promotes a more environmental-friendly lifestyle in accordance with the goals of sustainable development. Therefore volunteers are expected to be aware of their environmental impact and encouraged to choose more eco-friendly means of transport. Please also check transportation costs within Switzerland before applying for our camps as this is expensive. Enter the place (to be found in the camp title) in the railway website www.sbb.ch. A participation in the camp from the first until the last day is needed for reason of instruction and group dynamic.