Make Ljubljana sporty again! ;)
Topic:
13: Community life
Work Types:
Environment / Manual / Restoration, renovation
Number of places still available:
6
Free places last update:
12 Aug 2019
International age:
18 - 99
Required Language:
English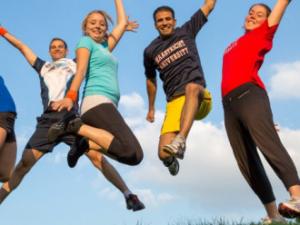 Description: Volunteers are going to learn history about our Sports Association and our old building - Sokol Hall which was built in 1926. Volunteers will have the opportunity to enjoy their free time in a beautiful city - Ljubljana is the green capital of a green country. The image of the town by a river with picturesque bridges and a marketplace was designed by the famous architect Jože Plečnik. The town of a thousand events is surrounded by parks and natural protected areas. We hope that employees of Tabor Sports Association and volunteers will connect and form a great team which can maybe end up also in cultivating some new friendships.
Type of Work: Our goal is going to be restoration place of this Sport Association. Volunteers will have a chance to do some physically work outside (repairing fence, paint benches, washing graphite from the building). Work will be manual but not too demanding. Spending time working outside will improve your physical and mental health. Volunteers will help with food as well.
Study Theme: Tabor Sport Association was founded in 1907, so it's more then 110 years old association. The construction of the Sokol Hall started in In June 1924.
Accommodation: Volunteers will be accommodated in our sport hall. They have to bring their own sleeping bag, camping mattress and pillow. Volunteers will use toilets and showers which are in the sports hall. They are going to stay in our sport hall and will be able to use our sporting facilities: basketball court, volleyball court, table tennis, etc. We also have our outdoor playgrounds.
Language: English (within camp), Slovene (national language)
Requirements: Volunteers should have the motivation for physically work outside. Experience with removal of paint from the fence and with painting metal fences are welcome, but not binding.
Approximate Location: Tabor 13, 1000 Ljubljana
Notes: It's important to understand that accomodation is not going to be private or cozy. Volunteers are going to sleep together in a sport hall. Men and women are going to be separated. We are located in the center of Ljubljana, there is a 10 minutes walk to the heart of Ljubljana's historic centre. Ljubljana is very alive in the summer, so there is a lot of interesting things to see and do.